Nat King Cole: Hittin' The Ramp: The Early Years 1936 - 1943 (Box Set) (180g) (Limited Numbered Deluxe Edition)
Hittin' The Ramp: The Early Years 1936 - 1943 (Box Set) (180g) (Limited Numbered Deluxe Edition)
10 LPs
LP (Long Play)
Die gute alte Vinyl - Langspielplatte.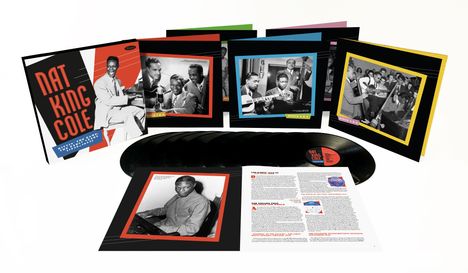 lieferbar innerhalb 2-3 Wochen
(soweit verfügbar beim Lieferanten)

Wir beschaffen die Ware speziell für Sie nach Bestelleingang.
Vinyl liefern wir innerhalb Deutschlands immer portofrei.
Label: Resonance, 1936-43
Bestellnummer:

9427439

Erscheinungstermin: 2.4.2021
Weitere Ausgaben von Hittin' The Ramp: The Early Years 1936 - 1943
Veröffentlicht in Zusammenarbeit mit dem Nat King Cole Estate, »Hittin' the Ramp: The Early Years (1936-1943)« ist die erste groß angelegte Sammlung wichtigster Frühaufnahmen. Für viele Tracks ist dies die erste offzielle Veröffentlichung. Diese definitive 7CD- und limitierte 10LP-Sammlung stützt sich auf eine Vielzahl von Quellen, darunter viele neu entdeckte Titel, die zum ersten Mal in Archiven auf der ganzen Welt entdeckt wurden (zum Beispiel »Trompin« (Veröffentlichung nur für Jukeboxen für Cinematone, 1939) ), »What'cha Know Joe« (undokumentierte Radioaufführung, 1940 - jetzt die früheste bekannte Aufnahme von Nat »on the air«), »The Romany Room is Jumpin« (Privataufnahme, 1941) und »Beautiful Moons Ago« (längere alternative Fassung, 1943).

Die Sessions stammen von Nat im Alter von 17 Jahren, der 1936 in der Band seines Bruders Klavier spielte. Die ersten King Cole Trio-Aufnahmen von 1938, die nur für Rundfunksendungen entstanden, weitere Radioaufnahmen, die Ammor Records Session (Frühjahr 1940 - die ersten kommerziellen Veröffentlichungen für das Trio), die Decca Recordings (1940- 41), die Small- Label-Sessions für Excelsior- und Premier-Labels (1943), viele zuvor nicht im Umlauf befindliche Armed Forces Radio-Auftritte und, zusammen mit Produzent Norman Granz am Ruder, frühe Jazz-Sessions mit Lester Young (historisch: Norman Granz erste Session als Produzent) und Dexter Gordon, ursprünglich auf Philo bzw. Mercury veröffentlicht.

Ein umfangreiches 60-seitiges Booklet mit seltenen Fotos, Essays des renommierten Autors Will Friedwald und des Gitarristen Nick Rossi (mit besonderem Schwerpunkt auf Oscar Moore), Interviews und Testimonials von Johnny Mathis, Tony Bennett, Quincy Jones, Harry Belafonte, John Pizzarelli, Freddy Cole, Michael Feinstein und vielen anderen runden »Hittin' the Ramp« ab.
Diese Veröffentlichung zeichnet sich durch ein neues Remastering von den Originaldiscs aus, die für dieses Set aus einer Reihe persönlicher Sammlungen und aus den Archiven der University of California - Santa Barbara, dem Institut für Jazzstudien der Rutgers University, der CU Boulder American Music, Forschungszentren und der Library of Congress zusammengetragen wurden.

Dieses umfangreich ausgestattete Multi-Disc-Box-Set über die frühen Jahre des Künstlers erscheint zu dessen 100. Geburtstag. Es zeichnet die Entstehungsgeschichte eines großen Künstlers und seiner Karriere nach. Sein unverwechselbarer Stil ist bis heute weltberühmt.


Rezensionen
»Sämtliche Aufnahmen wurden behutsam remastert und klingen so gut wie nie zuvor.​« (Jazz thing, November 2019 - Januar 2020)
Die Hörproben gehören zum Artikel Nat King Cole (1919-1965): Hittin' The Ramp: The Early Years 1936 - 1943 (CD). Das Tracklisting kann bei diesem Artikel ggf. abweichen.
LP
1 Honey hush 2:52, 1936, decca master take
2 Stompin' at the panama (skoller's shuffle) 2:59, 1936, decca
3 Bedtime (sleepy moan) 2:54, 1936, decca master take
4 Thunder 1936, decca master take
5 Mutiny in the nursery 2:52, 1938, standard transcription
6 F.d.r. jones 3:10, 1938, standard transcription
7 The sheik of araby 2:17, 1938, standard transcription
8 The blue danube 2:50, 1938, standard transcription
9 Button, button 2:52, 1938, standard transcription
10 Jingle bells 1938, standard transcription
11 Swanee river 1938, standard transcription
12 With plenty of money and you 2:15, 1938, standard transcript
13 Don't blame me 2:26, 1938, standard transcription
14 Lullaby in rhythm 2:48, 1938, standard transcription
15 Dark rapture 3:13, 1938, standard transcription
16 The wiggly walk 2:52, 1938, standard transcription
17 Flea hop 2:43, 1938, standard transcription
18 Chopsticks 2:44, 1938, standard transcription
19 Patty cake, patty cake 2:43, 1938, standard transcription
LP
1 Blue skies 2:09, 1938, standard transcription
2 Liza 2:58, 1938, standard transcription
3 Three blind mice 2:08, 1938, standard transcription
4 Caravan 2:17, 1938, standard transcription
5 There's no anesthetic for love 3:15, 1939, davis & schwegler
6 Dixie jamboree 3:04, 1939, davis & schwegler transcription
7 Ta-de-ah 2:39, 1939, davis & schwegler transcription
8 Riffin' at the bar-b-q 2:05, 1939, davis & schwegler transcr
9 Harlem swing 2:30, 1939, davis & schwegler transcription
10 I lost control of myself 3:16, 1939, davis & schwegler trans
11 The land of make believe 2:52, 1939, davis & schwegler trans
12 That please-be-mine-able feeling 2:15, 1939, davis & schwegl
13 Dancing in the street 3:09, 1939, davis & schwegler transcri
14 You're so different 3:02, 1939, davis & schwegler transcript
15 I wouldn't have known it 2:33, 1939, davis & schwegler trans
16 Let's get happy 2:18, 1939, davis & schwegler transcription
17 Undecided 2:26, 1939, standard transcription
18 'taint what you do 2:53, 1939, standard transcription
19 Do you wanna jump, children? 2:46, 1939, standard transcript
20 Riffin' in f minor 2:06, 1939, standard transcription
LP
1 Ol' man mose ain't dead 3:30, 1939, standard transcription
2 Blue lou 3:01, 1939, standard transcription
3 Honey 2:11, 1939, standard transcription
4 Russian lullaby 2:07, 1939, standard transcription
5 Georgie porgie 2:23, 1939, standard transcription
6 The limp 2:52, 1939, standard transcription
7 Snug as a bug in a rug 2:35, 1939, standard transcription
8 Liebestraum 3:23, 1939, standard transcription
9 Fidgety joe 2:57, 1939, standard transcription
10 Two against one 3:00, 1939, standard transcription
11 Some like it hot 3:09, 1939, standard transcription
12 Crazy rhythm 2:00, 1939, standard transcription
13 Moonglow 2:57, 1939, standard transcription
14 Don't let that moon get away 2:45, 1939, standard transcript
15 My blue heaven 1:36, 1939, standard transcription
16 I was doing alright 2:17, 1939, standard transcription
17 I can't get started 2:41, 1939, standard transcription
18 Old man moon 2:16, 1939, standard transcription
19 Carry me back to old virginny 2:14, 1939, standard transcrip
LP
1 Moon song 3:09; 1939, standard transcription
2 Baby, won't you please come home 2:20, 1939, standard transc
3 Rosetta 2:11; 1939, standard transcription
4 Trompin' 2:46, 1939, standard transcription
5 You're my life 2:54, 1939, standard transcription
6 Hoy soy 2:33, 1939, standard transcription
7 Take 'em 2:24, 1939, standard transcription
8 Scategoria 2:32, 1939, standard transcription
9 Rhythm serenade 2:35, 1939, standard transcription
10 Rib town shuffle 2:46, 1939, standard transcription
11 Music'll chase your blues away 2:01, 1939, standard transcri
12 I'll gather up my memories 3:34, 1939, standard transcriptio
13 A fool's affair 3:34, 1939, standard transcription
14 Jump, jack, jump 2:47, 1939, standard transcription
15 I knew a time 3:05, 1939, standard transcription
16 Mine you'll always be 3:19, 1939, standard transcription
17 Doin' the bow wow 2:44, 1939, standard transcription
18 Lilla mae 2:18, 1939, standard transcription
LP
1 I like to riff 2:49, 1940, ammo, master take
2 On the sunny side of the street 2:55, 1940, ammor master tak
3 Black spider stomp 2:40, 1940, ammor master take
4 By the river st. marie 2:25, 1940, ammor master take
5 Slew foot joe 2:14, 1940, standard transcription
6 1-2-3-4 2:09, 1940, standard transcription
7 Crazy 'bout rhythm 2:04, 1940, standard transcription
8 Off the beam 2:18, 1940, standard transcription
9 King cole blues 2:07, 1940, standard transcription
10 Jivin' with the notes 2:01, 1940, standard transcription
11 Never mind, baby 1:45, 1940, keystone transcription
12 I'm a perfect fool over you 2:38, 1940, keystone transcripti
13 Lovely little person 2:23, 1940, keystone transcription
14 Love me sooner 2:32, 1940, keystone transcription
15 Sentimental blue 2:44, 1940, keystone transcription
16 Goin' to town with honey 2:21, 1940, keystone transcription
17 Syncopated lullaby 1:51, 1940, keystone transcription
18 Falling in and out of love 1:50, 1940, keystone transcriptio
19 Let's do things 2:01, 1940, keystone transcription
20 Jumpy jitters 1:51, 1940, keystone transcription
21 Nothing ever happens 2:35, 1940, keystone transcription
22 What'cha doin' to my heart 1:37, 1940, keystone transcriptio
LP
1 Bedtime 2:45, 1940, standard transcription
2 Honey hush 2:18, 1940, standard transcription
3 French toast 2:15, 1940, standard transcription
4 Vine street jump 2:43, 1940, standard transcription
5 B flat 2:32, 1940, standard transcription
6 You send me 2:11, 1940, standard transcription
7 Love is my alibi 3:13, 1940, standard transcription
8 Pogo stick bounce 2:19, 1940, standard transcription
9 Whatcha' know, joe? 2:36, 1940, unreleased radio broadcast
10 Sweet lorraine 2:57, 1940, decca master take
11 Honeysuckle rose 2:34, 1940, decca master take
12 Gone with the draft 2:44, 1940, decca master take
13 This side up 2:49, 1940, decca master take
14 Jumpin' with the mop 2:26, 1941, standard transcription
15 Jam man 2:05, 1941, standard transcription
16 Let's try again 3:05, 1941, standard transcription
17 Fudge wudge 3:51, 1941, standard transcription
18 Smokey joe 1:58, 1941, standard transcription
19 Windy city boogie woogie 2:26, 1941, standard transcription
20 Ode to a wild clam 2:26, 1941, standard transcription
LP
1 Let's try again 3:10, 1941, macgregor transcription
2 Whatcha' know, joe? 2:12, 1941, macgregor transcription
3 Lazy river 1:46, 1941, macgregor transcription
4 Georgia on my mind 2:45, 1941, macgregor transcription
5 Rockin' chair 3:13, 1941, macgregor transcription
6 A little jive is good for you 3:41, 1941, macgregor transcri
7 You've changed 3:05, 1941, macgregor transcription
8 Babs 2:27, 1941, decca master take
9 Scotchin' with the soda 2:35, 1941, decca master take
10 Slow down 3:09, 1941, decca master take
11 Early morning blues 2:46, 1941, decca master take
12 The romany room is jumpin' 2:30, 1941, unreleased private re
13 This will make you laugh 3:14, 1941, decca master take
14 Stop! the red light's on 2:39, 1941, decca master take
15 Hit the ramp 3:21, 1941, decca master take
16 I like to riff 2:48, 1941, decca master take
LP
1 Call the police 3:05, 1941, decca master take
2 Are you fer it? 3:08, 1941, decca master take
3 That ain't right 3:14, 1941, decca master take
4 Hit that jive, jack 2:59, 1941, decca master take
5 Indiana 4:53, 1942, philo, w/lester young
6 I can't get started 4:55, 1942, philo, w/lester young
7 Tea for two 4:47, 1942, philo, w/lester young
8 Body and soul 5:13, 1942, philo, w/lester young
9 Vom, vim, veedle 3:02, 1942, excelsior master take
10 All for you 3:28, 1942, excelsior master take
11 Hip hip hooray 2:24, 1943, afrs jubilee #5
12 I know that you know 2:10, 1943, afrs jubilee #5
13 I'm gonna move to the outskirts of town 3:44, 1942 or 1943,
LP
1 Pitchin' up a boogie 3:14, 1943, excelsior master take
2 I'm lost 3:19, 1943, excelsior master take
3 Beautiful moons ago 2:27, 1943, excelsior master take
4 Let's spring one 2:43, 1943, excelsior master take
5 Slender, tender, and tall 2:06, 1943, afrs jubilee #29
6 I've found a new baby 4:44, 1943, mercury, w/dexter gordon
7 Rosetta 5:10, 1943, mercury, w/dexter gordon
8 Sweet lorraine 4:56, 1943, mercury, w/dexter gordon
9 I blowed and gone 4:47, 1943, mercury, w/dexter gordon
10 Solid potato salad 2:07, 1943, afrs jubilee #36
11 F.s.t. (fine, sweet & tasty) 3:07, 1943, premier master take
12 Got a penny 2:37, 1943, premier master take
13 Let's pretend 3:18, 1943, premier master take
14 My lips remember your kisses 3:11, 1943, premier master take
15 I'm an errand boy for rhythm 1:51, 1943, afrs jubilee #51
16 Straighten up and fly right 2:45, 1943, afrs jubilee #51
LP
1 Honey hush 2:47, 1936, decca alternate take
2 By the river st. marie 2:12, 1938 standard transcription
3 I like to riff 2:33, 1939, standard transcription
4 Black spider stomp 2:54, 1939, standard transcription
5 Sweet lorraine 3:23, 1939, standard transcription
6 Early morning blues 2:53, 1940, standard transcription
7 Gone with the draft 2:22, 1940, standard transcription
8 Scotchin' with the soda 2:25, 1941, standard transcription
9 Gone with the draft 2:28, 1941, standard transcription
10 The romany room is jumpin' 2:33, 1941, unreleased private re
11 Hit that jive, jack 2:16, 1942, afrs mail call #16
12 Beautiful moons ago 3:36, 1943, excelsior alternate take
13 Honeysuckle rose 3:20, 1943, afrs jubilee #29
14 I know that you know 2:53, 1943, afrs jubilee #36
15 Solid potato salad 2:14, afrs command performance #87
16 My lips remember your kisses 3:07, 1943, premier alternate t
17 Straighten up and fly right 2:52, 1943, afrs personal album