Miles Davis: Birth Of The Cool (180g) (Limited Edition) (Red Vinly) +2 Bonustracks
Birth Of The Cool (180g) (Limited Edition) (Red Vinly) +2 Bonustracks
LP
LP (Long Play)
Die gute alte Vinyl - Langspielplatte.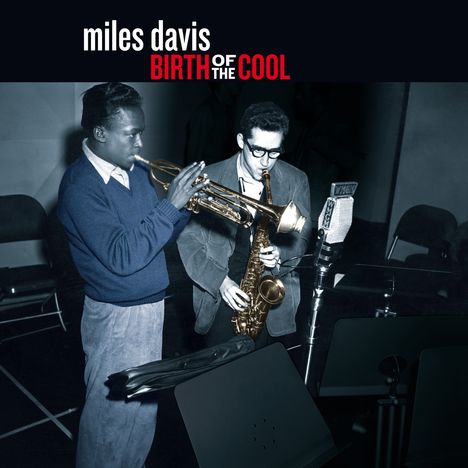 Vinyl liefern wir innerhalb Deutschlands immer portofrei.
+ Kai Winding, J.J. Johnson, Gerry Mulligan u.a.
* DMM - Direct Metal Mastering
Gesamtverkaufsrang: 20686
Verkaufsrang in LPs: 6183
As described by key participant Gerry Mulligan in one of the essays included in the CD booklet, the birth of the Miles Davis Nonet took place in the basement apartment of Gil Evans, who was highly respected by musicians at the time (if little known to the public) as the principal arranger for Claude Thornhill. With important input from Mulligan, then a little-known baritone saxophonist; budding composer and pianist John Lewis, who had worked with Parker, Dizzy Gillespie and Lester Young; composer Johnny Carisi; Lee Konitz, star Thornhill soloist and the rare new alto saxophonist who had not been content to simply imitate Parker; and Davis, who took it upon himself to assemble a mid-sized group that would test his friends' new ideas, a band emerged that played one three-week gig at the Royal Roost in New York City in September of 1948.

The experiment might have ended there had Capitol Records producer Walter Rivers not chosen to record the Nonet in three sessions that took place over the space of 14 months. These sessions produced a dozen classic titles. Mulligan arranged six, among them his compositions "Jeru," "Venus De Milo" and "Rocker"; Lewis contributed three more, including versions of Denzil Best's "Move" and the Davis-Bud Powell line "Budo"; Evans added brilliant versions of "Boplicity" (composed by Evans and Davis, though credited to "Cleo Henry") and the ballad "Moon Dreams"; and Carisi added his sinuous blues "Israel." With poised, controlled improvisations by primary soloists Davis, Mulligan, and Konitz; and with vital contributions from an ensemble that on one or more of the recording dates also included jazz giants Lewis, Kenny Clarke, Al Haig, J. J. Johnson, Max Roach and Kai Winding, the Miles Davis Nonet introduced an approach significantly distinct from the swift and overtly virtuosic bebop norm that launched the subsequent "cool" approach that became identified with such West Coast stars as Mulligan, Shorty Rogers and Chet Baker.