Miles Davis: Filmmusik: Ascenseur Pour L'Echafaud
Filmmusik: Ascenseur Pour L'Echafaud
CD
CD (Compact Disc)
Herkömmliche CD, die mit allen CD-Playern und Computerlaufwerken, aber auch mit den meisten SACD- oder Multiplayern abspielbar ist.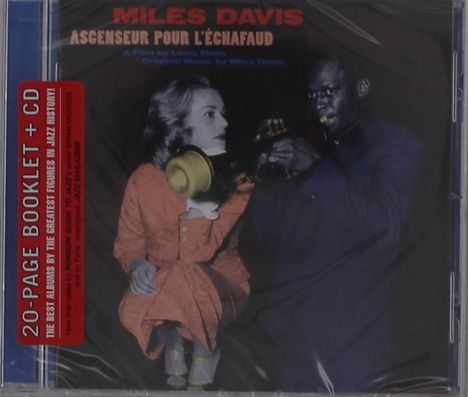 Nur noch 1 Stück am Lager. Danach versandfertig innerhalb 1-2 Wochen (soweit verfügbar beim Lieferanten)
+ John Coltrane, Barney Wilen u. a.
»Ascenseur Pour L'echafaud«, in Deutschland berühmt als »Fahrstuhl zum Schafott«, ist ein legendärer Kriminalfilm, der auch nach 60 Jahren noch zu fesseln vermag. Louis Malles Meisterwerk von 1958, mit schauspielerischen Glanzleistungen von Jeanne Moreau und Maurice Ronet, gehört zu den absoluten Klassikern des Genres.

Enthält neue, speziell angefertigte Linernotes von PENGUIN GUIDE TO JAZZ's Autor BRIAN MORTON und vom renommierten Pariser JAZZ MAGAZIN.

MILES DAVIS, trumpet on all tracks, plus:
Side A: Film Soundtrack: Ascenseur pour l'échafaud
(Frantic/Lift to the Scaffold): BARNEY WILEN, tenor sax, RENÉ URTREGER, piano, PIERRE MICHELOT, bass, KENNY CLARKE, drums, Paris, December 4 & 5, 1957.

Side B: The Miles Davis Sextet
JOHN COLTRANE, tenor sax, JULIAN "CANNONBALL" ADDERLEY, alto sax, BILL EVANS, piano, PAUL CHAMBERS, bass, JIMMY COBB, drums Original session produced by Teo Macero. New York, May 26, 1958. *Bonus Track: MILES DAVIS, trumpet; HORACE SILVER, piano; PERCY HEATH, bass; ART BLAKEY, drums. Hackensack, New Jersey, March 6, 1954.


Disk 1 von 1 (CD)
1 Generique
2 L'assassinat de carala
3 Sur l'autoroute
4 Julien dans l'ascenseur
5 Florence sur les Champs-Elysees
6 Diner au motel
7 Evasion de julien
8 Visite du vigile
9 Au bar du petit bac
10 Chez le photographe du motel
11 On green dolphin street
12 Fran-dance
13 Stella by starlight
14 Old folks
15 I thought about you
16 Round midnight
17 Something I dreamed last night
18 There is no greater love