Jazz Sampler: Four Classic Albums: Jazz Organists
Four Classic Albums: Jazz Organists
2 CDs
CD (Compact Disc)
Herkömmliche CD, die mit allen CD-Playern und Computerlaufwerken, aber auch mit den meisten SACD- oder Multiplayern abspielbar ist.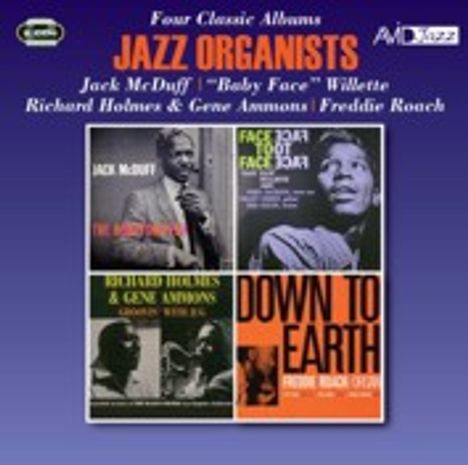 Lieferzeit beträgt mind. 4 Wochen
(soweit verfügbar beim Lieferanten)
Verlängerter Rückgabezeitraum bis 31. Januar 2024
Alle zur Rückgabe berechtigten Produkte, die zwischen dem 1. bis 31. Dezember 2023 gekauft wurden, können bis zum 31. Januar 2024 zurückgegeben werden.
Label: Avid
Bestellnummer:

8618524

Erscheinungstermin: 6.7.2018
"Jack McDuff: The Honeydripper"; "Baby Face Willette: Face To Face"; Richard "Groove" Holmes: Groovin' With The Jug" (with Gene Ammons) and "Freddie Roach: Down To Earth".

For our next release in this new series we have chosen a diverse range of jazz organists who released their albums from the late 1950s to the early 1960s. Jack McDuff, perhaps better known as Brother Jack McDuff, he began his career playing bass before moving on to the Hammond B3 organ and being signed to the Prestige record label where he made a number of fine albums in the hard bop / soul jazz style. Our selection "The Honeydripper" is perhaps the finest of his early recordings and features Jimmy Forrest on tenor and Grant Green on guitar.

"Baby Face" Willette, spent his early musical career playing piano in gospel and R'n'B bands before switching to the organ. In 1960 he met Lou Donaldson and Grant Green with whom he played on some Blue Note sessions before being signed himself to Blue Note where he made his very impressive debut album "Face To Face" featuring Fred Jackson on tenor and Grant Green on guitar.

Richard "Groove" Holmes - Hard bop meets soul jazz on our fine, mostly live selection where Holmes is in musical combat with famed tenor sax man Gene Ammons. This album takes no prisoners!

Freddie Roach is perhaps not as well-known a name in the history of jazz as some of his organ playing contempories, but in the community of Hammond B3 organ fans he is just about one of the best, arguably a shade behind Jimmy Smith, but with a much smaller catalogue to explore. And that catalogue is becoming harder to find and more expensive to buy as each year passes. So we are proud to be able to include Freddie's amazing debut album "Down To Earth" for your enjoyment. For his debut Freddie teamed up with Percy France on tenor, Kenny Burrell on guitar and Clarence Johnston on drums.
1

Track 1

2

Track 2

3

Track 3

4

Track 4

5

Track 5

6

Track 6

7

Track 7

8

Track 8

9

Track 9

10

Track 10

11

Track 11

12

Track 12