Espen Eriksen & Andy Sheppard: Perfectly Unhappy
Perfectly Unhappy
CD
CD (Compact Disc)
Herkömmliche CD, die mit allen CD-Playern und Computerlaufwerken, aber auch mit den meisten SACD- oder Multiplayern abspielbar ist.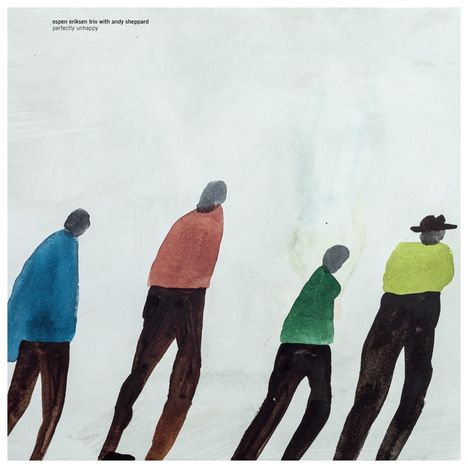 Lieferzeit beträgt mind. 4 Wochen
(soweit verfügbar beim Lieferanten)
Label: Rune Grammofon, 2018
Bestellnummer:

8197248

Erscheinungstermin: 4.5.2018
*** Digipack
Product Information

»I knew from the first time I heard the trio play that I would fit right in. I loved the melodic sense and vibe and was thrilled when I was invited to guest with the trio in London in 2016. Since then we've had a chance to grow the music with tours in Korea and Norway, before Espen wrote a set of fantastic tunes for the recording session in Oslo. They played themselves and we had a ball recording, everything clicked and in two days we had made a very special album.«

Andy Sheppard Espen Eriksen Trio was formed in 2007 and released their first album in 2010. Their music relies on highly melodic and lyrical instrumentals and a »less is more« approach and is often credited for its unique voice within today's jazz scene by the international press.

The aptly named »Perfectly Unhappy« features eight new songs by the pianist, all written with this collaboration in mind. These are enchanting and lyrical tunes, often melancholic and uplifting at the same time and will surely speak to followers of both the trio and Sheppard and attract many new ones. With a career spanning over four decades, working together with the likes of George Russell and Gil Evans, Andy Sheppard is truly one of Europe's leading saxophonists. Lately, his main focus has been with his own quartet and the trio with living legends Carla Bley and Steve Swallow, both acts recording for ECM.
Disk 1 von 1 (CD)
1 Above The Horizon
2 1974
3 Perfectly Unhappy
4 Indian Summer
5 Suburban Folk Song
6 Naked Trees
7 Revisited
8 Home
Mehr von Espen Eriksen &...