Ella Fitzgerald: Ella 100: 100 Songs For A Centennial
Ella 100: 100 Songs For A Centennial
4 CDs
CD (Compact Disc)
Herkömmliche CD, die mit allen CD-Playern und Computerlaufwerken, aber auch mit den meisten SACD- oder Multiplayern abspielbar ist.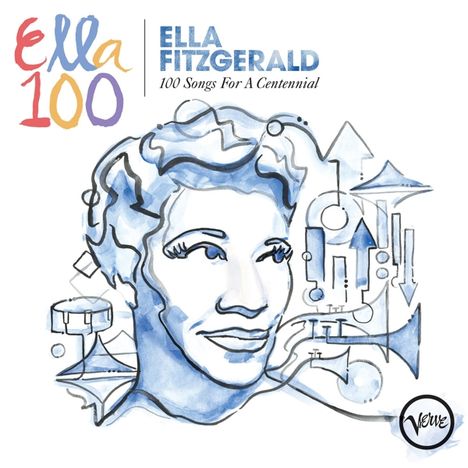 Label: Verve
Bestellnummer:

6485937

Erscheinungstermin: 21.4.2017
*** Digipack
Gesamtverkaufsrang: 6143
Verkaufsrang in CDs: 2370
100 Jahre Ella Fitzgerald – »First Lady of Song« und »Queen of Jazz«!

Am 25. April 2017 hätte die 1996 verstorbene Sängerin, die ganze Generationen von Jazzfans begeisterte, ihren 100. Geburtstag gefeiert. Aus diesem Anlass erscheinen im Laufe des Jahres zahlreiche Wiederveröffentlichungen und neue Compilations, die Ellas zahlreiche Talente ausführlich zur Schau stellen.

Den Anfang macht »100 Songs For A Centennial«: in dieser 4-CD-Box werden – der Titel lässt es erahnen – nicht weniger als einhundert ihrer populärsten Stücke und größten Erfolge wiederveröffentlicht. Die Kollektion umfasst Aufnahmen, die Ella Fitzgerald für Decca und – im Zenit ihres Könnens – für Verve gemacht hat. Der Bogen spannt sich von ihren frühesten Einspielungen aus dem Jahr 1936 mit Chick Webb und seinem Orchester bis zu ihrer berühmten »Mack the Knife«-Live-Version von 1960, für die sie einen Grammy erhielt.

Zu den vielen anderen Highlights zählen unsterbliche Aufnahmen von Jazzklassikern wie »Summertime«, »I've Got You Under My Skin«, »I Got Rhythm«, »Misty und »Stella By Starlight« sowie von dem Kinderlied »A-Tisket, A-Tasket«.
Disk 1 von 4 (CD)
1 Sing Me A Swing Song (And Let Me Dance) (Single Version)
2 If You Can't Sing It You'll Have To Swing It
3 Dedicated To You
4 Big Boy Blue
5 I Got A Guy (Single Version)
6 A-Tisket, A-Tasket
7 I Found My Yellow Basket (Single Version)
8 McPherson Is Rehearsin' (To Swing) (Single Version)
9 F.D.R. Jones (Single Version)
10 Undecided (Single Version)
11 I Want The Waiter (With The Water) (Single Version)
12 Imagination
13 Five O'Clock Whistle (Single Version)
14 Cow Cow Boogie
15 When My Sugar Walks Down The Street (Single Version)
16 I'm Making Believe (Single Version)
17 Into Each Life Some Rain Must Fall (Single Version)
18 And Her Tears Flowed Like Wine
19 I'm Beginning To See The Light
20 It's Only A Paper Moon
21 You Won't Be Satisfied (Until You Break My Heart) (Single Version)
22 Stone Cold Dead In The Market
23 (I Love You) For Sentimental Reasons
24 My Happiness
25 Baby It's Cold Outside
Disk 2 von 4 (CD)
1 Oh Lady Be Good
2 That Old Feeling
3 I Hadn't Anyone Till You
4 Black Coffee
5 Soon
6 There Never Was A Baby Like My Baby
7 Walkin' By The River
8 Taking A Chance On Love
9 Until The Real Thing Comes Along (Album Version)
10 You Leave Me Breathless (Album Version)
11 Lullaby Of Birdland
12 Between The Devil And The Deep Blue Sea
13 It Might As Well Be Spring
14 Miss Otis Regrets (She's Unable To Lunch Today)
15 You Do Something To Me
16 I've Got You Under My Skin
17 Moonlight In Vermont
18 Cheek To Cheek
19 Manhattan
20 Thou Swell
21 I Wish I Were In Love Again
22 Blue Moon
23 Solitude
24 Comes Love
25 I've Got My Love To Keep Me Warm
Disk 3 von 4 (CD)
1 Let's Call The Whole Thing Off
2 In A Mellow Tone
3 I Never Had A Chance
4 What Will I Tell My Heart
5 Summertime
6 Little White Lies
7 You Hit The Spot
8 You Brought A New Kind Of Love To Me
9 Let's Face The Music And Dance
10 Isn't This A Lovely Day?
11 Puttin' On The Ritz
12 You Make Me Feel So Young
13 Moonlight Becomes You
14 Let's Fall In Love
15 My Old Flame
16 They All Laughed
17 I Can't Be Bothered Now
18 My One And Only
19 I Got Rhythm
20 Stairway To The Stars
21 Misty
22 Hooray For Love
23 Out Of This World
24 Come Rain Or Come Shine
25 Stella By Starlight
Disk 4 von 4 (CD)
1 I Hear Music
2 Love Me Or Leave Me
3 Hallelujah, I Love Him So
4 The Very Thought Of You
5 Warm All Over
6 Almost Like Being In Love
7 All The Things You Are
8 A Fine Romance
9 Yesterdays
10 Honeysuckle Rose
11 On The Sunny Side Of The Street
12 Tea For Two
13 Trouble In Mind
14 See, See Rider
15 Can't Buy Me Love
16 The Sweetest Sounds
17 Skylark
18 Something's Gotta Give
19 Dream (When You're Feeling Blue)
20 Cottontail
21 Duke's Place
22 Something To Live For (Album Version)
23 Whisper Not
24 Time After Time
25 Mack The Knife (Live In Berlin/1960)
Mehr von Verve