Steve Tibbetts: A Man About A Horse
A Man About A Horse
CD
CD (Compact Disc)
Herkömmliche CD, die mit allen CD-Playern und Computerlaufwerken, aber auch mit den meisten SACD- oder Multiplayern abspielbar ist.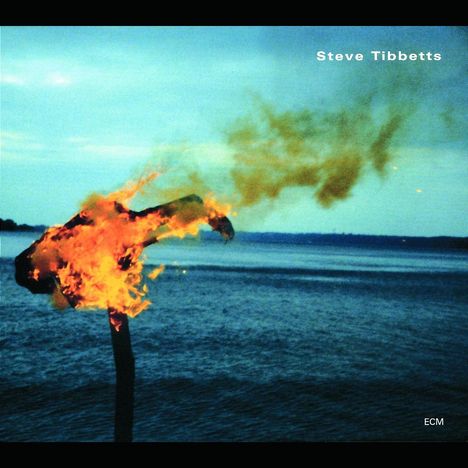 lieferbar innerhalb einer Woche
(soweit verfügbar beim Lieferanten)
Label: ECM, 2002
Bestellnummer:

5633431

Erscheinungstermin: 1.10.2009
+ Marc Anderson, Marcus Wise, Jim Anton
First ECM album in eight years from the innovative Minnesota-based guitarist and sound-explorer. As always with Tibbetts, the music is densely layered – "The more you listen, the more you hear" – and also attractive, beguiling. Steve Tibbetts's music straddles several idioms. The improvisational impulse comes from jazz, the sound colours from rock and world folklore. The enveloping texture and hypnotic quality would now be characterised as "ambient", although Steve's musical directions were set long before the term was coined. Behind Tibbetts's washes of guitar sounds, long-time associates Marc Anderson and Marcus Wise play interlocking drum and tabla rhythms which, together with Jim Anton's bass, propel the music forward.
Pressestimmen:

For the last 25 years or so Minnesota based guitarist Steve Tibbetts has been quietly producing records that sound like nothing much else. Imagining a kind of 'Fourth World' music (though his own suggestion is 'post modern neo primitivism'), Tibbetts combines African and Asian percussion, field recordings, ambient soundscapes and avant metal guitar heroics in a richly atmospheric brew. For some reason Tibbetts seems to go largely unnoticed by those who slavishly follow every twang from the likes of Bill Frisell, Terje Rypdal or David Torn, and he certainly hasn't received the kind of praise reserved for crosscultural fusioneers like Jon Hassell or Michael Brook. Though this album is unlikely to buck that trend, there's much to savour here for both the newbie or committed fan. 'From the opening acoustic lilt of 'Lupra', through to the restless soundscaping of 'Black Temple' or 'Chandola', his skilful gluing together of disparate elements is such that he avoids mere po-mo cut n' paste job; the whole is beautifully organic and never less than gripping, whether hovering on the verge of audibility or nudging the meters into the red. As the percussive swirl of 'Koshala' fades to blissful atmospherics, it seems that the album's 45 or so minutes have gone by in about 10.Devotees will know what to expect and won't be disappointed; anyone else interested in the kind of names mentioned above is likely to be surprised, captivated and converted. Brilliant, individual music-making. Peter Marsh, BBC Online

Der Mann aus Minneapolis legt mit A Man About A Horse erstmals seit Jahren wieder ein Album unter eigenem Namen für ECM vor. Die Klangkonstruktionen wirken beim ersten Hören spröde, häufig geradezu hermetisch, entwickeln nach und nach aber immer größere Sogkraft, vor allem dank des ungeheueren Reichtums an Farben, den Tibbetts aus seinem Instrumentarium zaubert. Dabei tragen die Percussionisten Marc Anderson und Marcus Wise sowie der Bassist Jim Anton mit ihrem ungeheuer differenzierten und dabei doch dynamischen Spiel dazu bei, dass die Musik sich nicht im Soundmalerischen verliert. Christian Stolberg, Musikexpress

Nach achtjähriger ECM-Pause legt der aus Minneapolis stammende Gitarrist Steve Tibbetts einen neuerlichen Versuch vor, die Einheit der Gegensätze sinnfällig zu machen. Nach einem Bruch des Handgelenks und vor einer durch die notwendige Operation erzwungenen Pause unter denkbar schwierigen Umständen aufgenommen ist eine CD von betörender atmosphärischer Dichte entstanden. Gemeinsam mit Jim Anton am Bass und den beiden Percussionisten Marc Anderson und Marcus Wise mischt Tibbetts akustische und elektrische Gitarrenklänge, Instrumentenklang und Rückkoppelung, Gongs und Loops, Tabla und Tape, Natur und Samples, Orient und Okzident, Vorwärts und Rückwärts zu einer meditativen Klanglandschaft, deren Wirkung sich nicht so sehr aus der Detailfülle erschließt wie aus der dunkel-homogenen Ganzheit, in der Tibbetts Klangkosmos wie entrückt zu schweben scheint. Tobias Böcker, Jazzpodium

Using the studio as laboratory and cloister, Steve Tibbetts crafts highly personal recordings that seem immune from all but a select few influences. A Man About A Horse embodies Tibbetts' established strengths ' feral electric guitar solos, complex percussion and meticulously detailed production. Tracks like 'Black Temple', the album's centerpiece, encompass sonic extremes from delicate atmospheres to furious guitar passages supported by thunderous drumming. ' While Tibbetts' guitars have long been the focal point of his CDs, A Man About A Horse achieves a new balance between drums and strings. The blend of contemplation and catharsis is pretty much what you want and expect from Tibbetts. He calls it 'post-modern neo-primitivism' with tongue presumably in cheek. Jon Andrews, Downbeat

Steve Tibetts hat sich immer in seinem ganz eigenen musikalischen Umraum bewegt, sich dabei stets den Kategorien widersetzt: Ist das Jazz, was er spielt' Hard Rock' Psychedelische Musik' Ist das eine Art Folk-Rock-Revival, oder handelt es sich gar um eine musikalische Vormoderne, in der sich akustische und elektronische Welten außerhab unserer Parameter in fulminante Klangbilder verwandeln' Egal, was draußen in der Musikwelt vor sich geht: Steve Tibbetts hört nicht auf, seinen Musiktraum zu leben ' weit draußen irgendwo in Minesota. Tilman Urbach, Fono Forum

A Man About A Horse is a rompin', stompin' name-takin' recording that keeps the energy level right up there where Tibbetts's previous ECM CD, The Fall of Us All, had previously pegged the meter. Tibbetts plays guitar and percussion, and is supported by his long-time sidekick Marc Anderson on percussion, plus Marcus Wise on additional percussion and Jim Anton on bass. Tibbetts has set up his guitar to trigger other sounds through a MIDI connection, and the resulting sound field is dense and multilayered. ' Tempos shift, drums thunder, birds twitter, voices drift in and out ' is that the wind suddenly picking up, or is it in the recording' Like Mahler's music, Tibbetts's music seeks to create a world. I only wish my meager descriptive powers could do it justice. If you have never heard the music of Steve Tibbetts, A Man About A Horse would be a great place to start. The Sensible Sound
Rezensionen
W.​ Stiefele in Audio 8/02: "Steve Tibbetts bastelte im Alleingang per Overdub eine Aufnahme, die so wagemutig geriet wie lange keine Gitarren-CD mehr.​ Wer den Trom- peter Nils Petter Molvaer mag, kann mit Steve Tibbetts den experimentellen Gegenpart kennen lernen.​"
Disk 1 von 1 (CD)
1 Lupra
2 Red Temple
3 Black Temple
4 Burning Temple
5 Glass Everywhere
6 Lochana
7 Chandoha
8 Koshala
Mehr von ECM Records