Louis Armstrong: The Very Best Of Louis Armstrong
The Very Best Of Louis Armstrong
2 CDs
CD (Compact Disc)
Herkömmliche CD, die mit allen CD-Playern und Computerlaufwerken, aber auch mit den meisten SACD- oder Multiplayern abspielbar ist.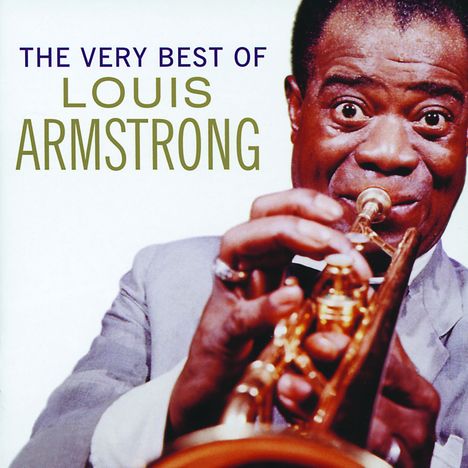 Label: MCA
Bestellnummer:

8564799

Erscheinungstermin: 22.6.1998
Weitere Ausgaben von The Very Best Of Louis Armstrong
Gesamtverkaufsrang: 1049
Verkaufsrang in CDs: 498
Nach dem Ende des Zweiten Weltkriegs und der von der Truppenbetreuung forcierten Unterstützung der Swing-Orchester, begann die Jazzwelt, sich grundlegend zu verändern. Neue Strömungen aus Harlem und der 52nd Street machten den Bebop populär, trotzdem blieb Armstrong als Old Lion des traditionellen Stils im Geschäft.

Er schaffte es 1949 mit »Blueberry Hill« in den amerikanischen Hitparaden und auf den Titel des Time-Magazin. Selbst die kritischen Leser der angesehenen Szenezeitschrift Down Beat blieben ihm gewogen und wählten ihn 1952 zur »bedeutendsten musikalischen Persönlichkeit aller Zeiten«. Satchmo wurde einerseits zur Galionsfigur des New Orleans-Revivals und schaffte es auf der anderen Seite durch Alben wie mit Ella Fitzgerald (»Ella & Louis«, 1956) oder Oscar Peterson (»LA meets OP«, 1957) seine künstlerische Integrität zu wahren. Er war 1957 und 1958 beim Newport-Festival zu Gast, erschien mit Hits wie »Hello Dolly« (1964) und »What A Wonderful World« (1968) in den Hitparaden und war trotz mehrerer Herzversagen 1959, 1968 und im Frühjahr 1971 weiterhin nahezu pausenlos aktiv. Am 6.Juli 1971 starb Louis Armstrong in New York im Schlaf. Mit ihm verabschiedete sich eine der wichtigsten Integrationsgestalten und Mentoren des Jazz von der Bühne, dessen Person und Werk bis heute Menschen in aller Welt fasziniert.
Disk 1 von 2 (CD)
1 What A Wonderful World (Single Version)
2 La Vie En Rose (Single Version)
3 Hello, Dolly! (Album Version)
4 On The Sunny Side Of The Street (Album Version)
5 Basin Street Blues
6 Blueberry Hill (Album Version)
7 C'est Si Bon (It's So Good)
8 The Dummy Song (Single Version)
9 Chloe (Song Of The Swamp) (Single Version)
10 I Still Get Jealous (Album Version)
11 When You're Smiling (The Whole World Smiles With You) (With Intro)
12 Kiss Of Fire (Single Version)
13 Sittin' In The Sun (Single Version)
14 A Kiss To Build A Dream On (Album Version)
15 High Society
16 When It's Sleepy Time Down South (Alternative Lyric Version)
17 It Takes Two To Tango (Single Version)
18 Skokiaan (South African Song) (1994 All Time Greatest Hits Version)
19 Hello Brother (Single Version)
20 La Cucaracha (Single Version)
Disk 2 von 2 (CD)
1 Moon River (Album Version)
2 Down By The Riverside (Album Version)
3 Someday (You'll Be Sorry) (1955/Live At The Crescendo)
4 April In Portugal
5 When The Saints Go Marching In (Single Version)
6 It's Been A Long, Long Time (Album Version)
7 Sincerely
8 Cabaret (Single Version)
9 (When We Are Dancin') I Get Ideas (Single Version)
10 Ramona
11 Memories Of You
12 Only You
13 Gone Fishin'
14 Mahogany Hall Stomp (Single Version)
15 Otchi-Tchor-Ni-Ya
16 Ko Ko Mo (I Love You So)
17 Jeepers Creepers (Album Version)
18 Dream A Little Dream Of Me (Album Version)
19 Brother Bill (Live (1955 Crescendo Club))
20 Don't Fence Me In (Live At The Crescendo Club/1955)