Jan Garbarek: Selected Recordings: ECM Rarum 2
Selected Recordings: ECM Rarum 2
2 CDs
CD (Compact Disc)
Herkömmliche CD, die mit allen CD-Playern und Computerlaufwerken, aber auch mit den meisten SACD- oder Multiplayern abspielbar ist.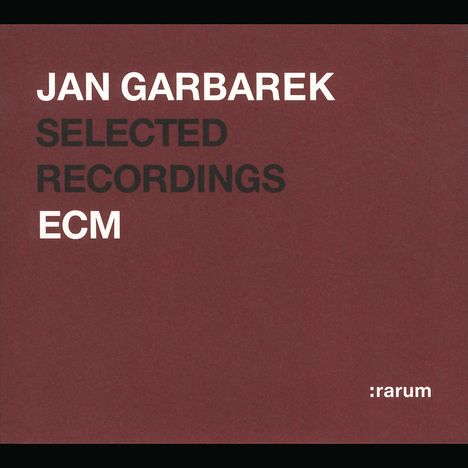 Nur noch 1 Stück am Lager. Danach versandfertig innerhalb einer Woche (soweit verfügbar beim Lieferanten)
Label: ECM, 1974-95
Bestellnummer:

4930596

Erscheinungstermin: 25.2.2022
Serie: ECM :rarum
+ Keith Jarrett, Chick Corea, Gary Burton
*** digitally remastered (24bit/96khz)
*** Digipack
"This retrospective compilation represents 30 wonderful years of my life.... I hope as you listen that you will, in some measure, hear the joy I've had making each of these recordings." Approached to record for ECM at the very beginning of its history; Jan Garbarek has since appeared on more than 50 albums for the label, and along the way has changed perceptions of improvisation, living up to George Russell's early estimation of him as "the most uniquely talented jazz musician Europe has produced since Django Reinhardt." Garbarek's double album traces the growth of his own groups, his collaborations with a wide range of musicians – from Keith Jarrett to the Hilliard Ensemble – and his investigations of Nordic and other folk traditions.
Disk 1 von 2 (CD)
1 Skrik & Hyl
2 Viddene
3 Iskirken
4 Lillekork
5 The Path
6 It's OK to listen to the gray voice
7 All Those Born With Wings: 3rd Piece
8 It's Name Is Secret Road
9 Aichuri, The Song Man
10 Part 1 (Molde Canticle)
11 Raga 1
12 Twelve Moons
13 Red Wind
Disk 2 von 2 (CD)
1 Windsong
2 Belonging
3 Oceanus
4 My Song
5 Sunshine Song
6 Cego Aderaldo
7 Song For Everyone
8 Rosenfole
9 Star
10 Joron
11 Parce Mihi Domine
Mehr von ECM Records