Charles Mingus: The Great Concert Of Charles Mingus 1964
The Great Concert Of Charles Mingus 1964
2 CDs
CD (Compact Disc)
Herkömmliche CD, die mit allen CD-Playern und Computerlaufwerken, aber auch mit den meisten SACD- oder Multiplayern abspielbar ist.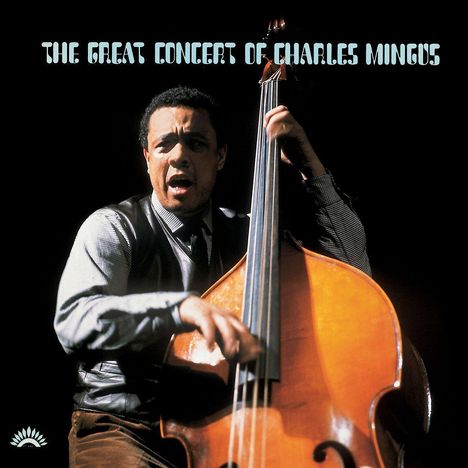 umgehend lieferbar, Bestand beim Lieferanten vorhanden
-66%
Label: Verve
Bestellnummer:

8410887

Erscheinungstermin: 3.2.2004
Weitere Ausgaben von The Great Concert Of Charles Mingus 1964
Gesamtverkaufsrang: 1390
Verkaufsrang in CDs: 637
Recorded "Live" in 1964 at the Théâtre des Champs-Élysée, Paris this 2 CD set, which features Eric Dolphy, is bolstered by two previously unreleased tracks. This is essential Mingus and essential to any jazz collection.
Disk 1 von 2 (CD)
1 A.T.F.W. (Art Tatum Fats Waller) (Live In Théâtre des Champs-Elysées, Paris / April 19th, 1964)
2 Presentation Of Musicians (Live In Théâtre des Champs-Elysées, Paris / April 19th, 1964)
3 So Long Eric (Don't Stay Over There Too Long) (Live In Théâtre des Champs-Elysées, Paris / April 19th, 1964)
4 Orange Was The Colour Of Her Dress, Then Blue Silk (Live In Théâtre des Champs-Elysées, Paris / April 19th, 1964)
5 Fables Of Faubus (Live In Théâtre des Champs-Elysées, Paris / April 19th, 1964)
Disk 2 von 2 (CD)
1 Sophisticated Lady (Live In Théâtre des Champs-Elysées, Paris / April 19th, 1964)
2 Parkeriana (Dedicated To A Genius) (Live In Théâtre des Champs-Elysées, Paris / April 19th, 1964)
3 Meditations On Integration (Or For A Pair Of Wire Cutters) (Live In Théâtre des Champs-Elysées, Paris / April 19th,)
Mehr von Verve