Georg Friedrich Händel: Der Messias
Der Messias
2 CDs
CD (Compact Disc)
Herkömmliche CD, die mit allen CD-Playern und Computerlaufwerken, aber auch mit den meisten SACD- oder Multiplayern abspielbar ist.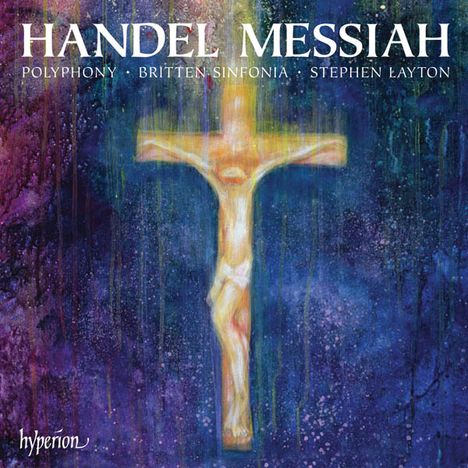 Nur noch 1 Stück am Lager. Danach versandfertig innerhalb 1-2 Wochen (soweit verfügbar beim Lieferanten)
Künstler: Julia Doyle, Iestyn Davies, Allan Clayton, Polyphony, Britten Sinfonia, Stephen Layton
Label: Hyperion, DDD, 2008
Bestellnummer:

1106658

Erscheinungstermin: 20.11.2009
Jedes Jahr wieder ...
... erklingt in St. John's Smith Square als Highlight der Saison Händels Messias. In der Barockkirche in London, die ausschließlich für Konzerte benutzt wird, wurde 2008 eine Aufnahme hergestellt, mit Musikern, die zu den besten Händel-Interpreten unserer Zeit gehören. Julia Doyle (Sopran), Iestyn Davies (Countertenor), Allan Clayton (Tenor) und Andrew Forster-Williams (Bass) bilden das stimmlich und interpretatorisch überzeugende Solistenquartett. »Niemand, wirklich niemand interpretiert jährlich den Messias besser als Polyphony unter dem Dirigenten Stephen Layton«, schrieb begeistert ein Kritiker der englischen Zeitung »Evening Standard«.


Product-Information:

'No-one, but no-one performs Messiah better every year than the choir Polyphony under the conductor Stephen Layton' (Evening Standard)

Polyphony and Stephen Layton's live Messiah at St John's Smith Square has become one of the highlights of the musical season. The joyful sincerity and urgent brilliance of the performers has brought the familiar story to life again and again. Now this wonderful experience is available on disc, recorded in 2008 for a new release that will surely prove a strong competitor in a necessarily crowded market. Polyphony is joined by the Britten Sinfonia and a quartet of magnificent young soloists – all variously acclaimed as the premier Handel singers of the new generation.


Rezensionen

'Polyphony are excellent … and Layton's direction is vivid and masterly' (The Sunday Times)

'Stephen Layton and his choir Polyphony are formidable performers' (Mail on Sunday)

'The new release has both a fine sense of style and is full of refreshing insights … The choir … sings with an effortless control and well-modulated fluency that takes wing … The acapella introduction of the final Amen is a masterstroke … Polyphony's new Messiah gives the daughters of Zion cause to 'Rejoice Greatly'' (BBC Music Magazine)

'Choral lightness and Layton's airy tempos convey the general feeling of good news … The quality of Julia Doyle's voice, shining, is fine, and 'Rejoice Greatly' finds her full of exultant expectancy at the thought of the Saviour's coming. The orchestra accompanies her with a springing step … A worthy addition to the discography' (International Record Review)
Tracklisting

Details

Mitwirkende
Disk 1 von 2 (CD)
Messiah HV 56 (Der Messias) Oratorium (C. Jennens nach Bibeltexten)
1 Sinfonia
2 1. Teil, 1 Comfort Ye, My People
3 1. Teil, 2 Every Valley Shall Be Exalted (Chor)
4 1. Teil, 3 Denn die Herrlichkeit Gottes, des Herrn (Chor)
5 1. Teil, 4 Thus Saith The Lord Of Hosts
6 1. Teil, 5 But Who May Abide The Day Of His Coming
7 1. Teil, 6 And He Shall Purify The Sons Of Levi
8 1. Teil, 7 Behold, A Virgin Shall Cover The Earth
9 1. Teil, 8 O Thou Tellest Good Tidings To Zion (Arie)
10 1. Teil, 9 For Behold, Darkness Shall Cover The Earth
11 1. Teil, 10 The People That Walked In Darkness (Chor)
12 1. Teil, 11 For Unto Us A Child Is Born (Chor)
13 1. Teil, 12 Pifa
14 1. Teil, 13 There Were Shepherds, Abiding In The Field
15 1. Teil, 14 And The Angel Said Unto The, Fear Not
16 1. Teil, 15 And Suddenly There Was With The Angel
17 1. Teil, 16 Glory To God In The Highest
18 1. Teil, 17 Rejoice Greatly, O Daughter Of Zion (Sopran-Arie)
19 1. Teil, 18 Then Shall The Eyes Of The Blind (Mezzosopran)
20 1. Teil, 19 He Shall Feed His Flock Like A Shepherd (Mezzosopran)
21 1. Teil, 20 His Yoke Is Easy (Chor)
22 2. Teil, 1 Behold The Lamb Of God
23 2. Teil, 2 He Was Despised And Rejected Of Men
Disk 2 von 2 (CD)
1 2. Teil, 3 Surely He Hath Borne Our Griefs
2 2. Teil, 4 And With His Stripes We Are Healed
3 2. Teil, 5 All We Like Sheep Have Gone Astray
4 2. Teil, 6 All They That See Him Laugh Him To Scorn
5 2. Teil, 7 He Trusted In God That He Would Deliver Him
6 2. Teil, 8 Thy Rebuke Hath Broken His Heart
7 2. Teil, 9 Behold And See If There Be Any Sorrow
8 2. Teil, 10 He Was Cut Off Out Oof The Land Of The Living
9 2. Teil, 11 But Thou Didst Not Leave His Soul In Hell
10 2. Teil, 12 Lift Up Your Heads, O Ye Gates (Chor)
11 2. Teil, 14 Let All The Angels Of God Worship Him
12 2. Teil, 15 Thou Art Gone Up On High
13 2. Teil, 13 Unto Which Of The Angels Said He at Any Time?
14 2. Teil, 16 The Lord Gave The Word
15 2. Teil, 17 How Beautiful Are The Feet Of Them That Preach
16 2. Teil, 18 Their Sound Is Gone Out Into All Lands
17 2. Teil, 19 Why Do The Nations So Furiously Rage Together?
18 2. Teil, 20 Let Us Break Their Bonds Asunder
19 2. Teil, 21 He That Dwelleth In Heaven Shall Laugh
20 2. Teil, 22 Thou Shalt Break Them With A Rod Of Iron
21 2. Teil, 23 Hallelujah, For The Lord God Omnipotent Reigneth
22 3. Teil, 1 I Know That My Redeemer Liveth
23 3. Teil, 2 Since By Man Came Death
24 3. Teil, 3 Behold, I Tell You A Mystery
25 3. Teil, 4 The Trumpet Shall Sound
26 3. Teil, 5 Then Shall Be Brought To Pass
27 3. Teil, 6 O Death, Where Is Thy Sting?
28 3. Teil, 7 But Thanks Be To God Who Giveth Us The Victory
29 3. Teil, 8 If Good Be For Us, Who Can Be Against Us?
30 3. Teil, 9 Worthy Is The Lamb That Was Slain
31 3. Teil, 10 Amen
Mehr von Hyperion