Edvard Grieg: Sämtliche Orchesterwerke
Sämtliche Orchesterwerke
6 CDs
CD (Compact Disc)
Herkömmliche CD, die mit allen CD-Playern und Computerlaufwerken, aber auch mit den meisten SACD- oder Multiplayern abspielbar ist.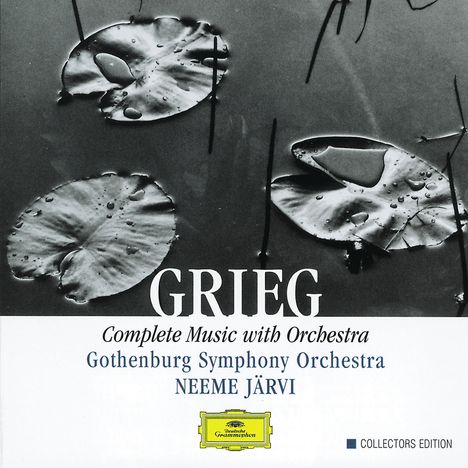 Nur noch 1 Stück am Lager. Danach versandfertig innerhalb 1-2 Wochen (soweit verfügbar beim Lieferanten)
Klavierkonzert op. 16; Im Herbst op. 11; Symphonische Tänze op. 64; Holberg-Suite op. 40; 2 Elegische Melodien op. 34; 2 Melodien op. 53; 2 Nordische Weisen op. 63; 2 Lyrische Stücke op. 68; Lyrische Suite op. 54; Peer Gynt op. 23; Sigurd Jorsalfar op. 22; Trauermarsch zum Andenken an R. Nordraak; Norwegische Tänze op. 35; Symphonie in c; Landkjenning op. 31; Olav Trygvason op. 50; Altnorwegische Romanze op. 51; 5 Orchesterlieder; The Montain Thrall op. 32; Before a Southern Convent; Bergliot op. 42
Künstler: Barbara Bonney, Hakan Hagegard, Lilya Zilberstein, Gothenburg SO & Chorus, Neeme Järvi
Label: DGG, DDD, 1985-1988
Bestellnummer:

4151959

Erscheinungstermin: 16.10.2001
Serie: The Collectors Edition
Rezensionen
A.​Beaujean in stereoplay 8/89: "Järvi läßt mit dem Göteborger Orchester der Musik des Norwegers alle nur denkbare Sorgfalt angedeihen.​"

S.​Hoffmann in HiFiVision 2/87: "Ein ungetrübtes Hörvergnügen für Klang-Freaks.​"
Tracklisting

Details

Mitwirkende
Disk 1 von 6 (CD)
Piano Concerto in A minor, Op.16
1 1. Allegro molto moderato (Original Version)
2 2. Adagio - attacca: (Original Version)
3 3. Allegro moderato molto e marcato - Quasi presto - Andante maestoso (Original Version)
In Autumn op.11
4 Andante - Allegro agitato - Allegro marcato e maestoso (Original Version)
Symphonic Dances, Op.64
5 1. Allegro moderato e marcato (Original Version)
6 2. Allegretto grazioso (Original Version)
7 3. Allegro giocoso (Original Version)
8 4. Andante - Allegro molto e risoluto (Original Version)
Disk 2 von 6 (CD)
Holberg Suite, Op.40
1 1. Präludium Allegro vivace (Original Version)
2 2. Sarabande Andante (Original Version)
3 3. Gavotte Allegretto - Musette poco più mosso - Gavotte (Original Version)
4 4. Air Andante religioso (Original Version)
5 5. Rigaudon Allegro con brio (Original Version)
Two Elegiac Melodies, Op.34
6 1. Heart-Wounds (Original Version)
7 2. The Last Spring (Original Version)
Two Melodies op.53
8 1. Norwegian: Allegro risoluto - Poco tranquillo (Original Version)
9 2. The First Meeting: Lento (Original Version)
Two Nordic Melodies, Op.63
10 1. In the style of a folk song (Original Version)
11 2. Cowkeeper's tune and country dance (Original Version)
Two lyric pieces op.68
12 1. Evening in the Mountains: Andantino (Original Version)
13 2. At the Cradle: Allegretto con moto (Original Version)
Lyric Pieces, Op.54
14 1. Shepherd Boy: Andantino espressivo (orchestrated by Edvard Grieg)
15 2.Bellringing (Orchestrated by Anton Seidl)
16 3. Norwegian March: Allegretto marcato (orchestrated by Edvard Grieg)
17 4. Notturno: Andante (orchestrated by Edvard Grieg)
18 5. March of the Trolls: Allegro marcato (orchestrated by Edvard Grieg)
Disk 3 von 6 (CD)
Peer Gynt, Op.23
1 No.1. At the Wedding Prelude to Act I (Incidental Music)
2 No.2. Halling (Incidental Music)
3 No.3. Springar (Incidental Music)
4 No.4. Ingrid's Lament (Incidental Music)
5 No.5. Peer Gynt and the herd girls (Incidental Music)
6 No.6. Peer Gynt and the Woman in Green (Incidental Music)
7 No.7. "Great folk may be known by the mounts they ride" (Incidental Music)
8 No.8. In the hall of the Mountain King (Incidental Music)
9 No.9. Dance of the Mountain King's daughter (Incidental Music)
10 No.10. Peer Gynt hunted by the Trolls (Incidental Music)
11 No.11. Peer Gynt and the Boyg (Incidental Music)
12 No.12a. The Death Of Ase Prelude To Act Iii (Incidental Music)
13 No.12b. The Death Of Ase Act Iii Scene 4 (Incidental Music)
14 No.13. Morning mood (Incidental Music)
15 No.14. The thief and the receiver (Incidental Music)
16 No.15. Arabian dance (Incidental Music)
17 No.16. Anitra's dance (Incidental Music)
18 No.17. Peer Gynt's serenade (Incidental Music)
19 No.18. Peer Gynt and Anitra (Incidental Music)
20 No.19. Solveig's song (Incidental Music)
21 No.20. Peer Gynt at the Statue of Memnon (Incidental Music)
22 No.21.Peer Gynt's homecoming.Stormy evening on the sea (Incidental Music)
23 No.22. The Shipwreck (Incidental Music)
24 No.23. Solveig sings in the hut (Incidental Music)
Disk 4 von 6 (CD)
Peer Gynt, Op.23
1 No.24. Night scene (Incidental Music)
2 No.25. Whitsun hymn: "O blessed morning" (Incidental Music)
3 No.26. Solveig's cradle song (Incidental Music)
Sigurd Jorsalfar, op.22
4 Fanfares (Original Version)
5 1. Prelude to Act I (Original Version)
6 2. Borghild's Dream (Original Version)
7 3. The Matching Game (Original Version)
8 4. The Northland Folk (Original Version)
9 5. Homage March (Original Version)
10 6. Interlude I (Original Version)
11 7. Interlude II (Original Version)
12 8. The Kings's Song (Original Version)
13 Funeral March for Rikard Nordraak CW117 (1866)
4 Norwegian Dances, Op.35
14 No. 1 in D minor Allegro marcato (Orchestrated by Hans Sitt)
15 No. 2 in A Allegretto tranquillo e grazioso (Orchestrated by Hans Sitt)
16 No. 3 in G Allegro moderato alla Marcia (Orchestrated by Hans Sitt)
17 No. 4 in D Allegro molto (Orchestrated by Hans Sitt)
Disk 5 von 6 (CD)
Symphony in C minor
1 1. Allegro molto (Original Version)
2 2. Adagio espressivo (Original Version)
3 3. Intermezzo. Allegro emergico (Original Version)
4 4. Finale. Allegro molto vivace (Original Version)
5 Land-Sighting, op.31
Olav Trygvason, op.50
6 1. Szene (Original Version)
7 2. Szene (Original Version)
8 3. Szene (Original Version)
Disk 6 von 6 (CD)
Old Norwegian Romance, Op.51
1 Poco tranquillo (Original Version)
2 Tema. Andantino espressivo (Original Version)
3 Poco Allegro, ma tranquillo (Original Version)
4 Energico (Original Version)
5 Allegro leggiero (Original Version)
6 Poco Andante (Original Version)
7 Maestoso (Original Version)
8 Allegro scherzando e leggiero (Original Version)
9 Andante (Original Version)
10 Andante molto tranquillo (Original Version)
11 Presto (Original Version)
12 Tempo di Menuetto (Original Version)
13 Allegro marcato (Original Version)
14 Tempo di Valse (Original Version)
15 Adagio molto expressivo. (Original Version)
16 Finale. Allegro molto marcato (Original Version)
17 Pomposo (Original Version)
18 Prestissimo (Original Version)
19 Andante molto tranquillo (Original Version)
Fire digte, op 21
20 The first meeting (Original Version)
Romancer, op.39
21 From Monte Pincio (Original Version)
Sex digte, op.25
22 A swan (Original Version)
Tolv Melodier il Digte af Aasmund Olavsson Vinje op.33 Twelve Songs after Poems by Aasmind Olavsson Vinje
23 2. Varen - Spring (Original Version)
Norge - Norway, op.58
24 Henrik Wergeland (Original Version)
25 Den Bergtekne - The Mountain Thrall, op.32
26 Foran sydens kloster - At a southern convent's gate, op.20
Bergliot, op.42
27 Original Version
Mehr von Deutsche Grammophon