Timothy J. Mason: Sonochemistry
Sonochemistry
Buch
Applications and Developments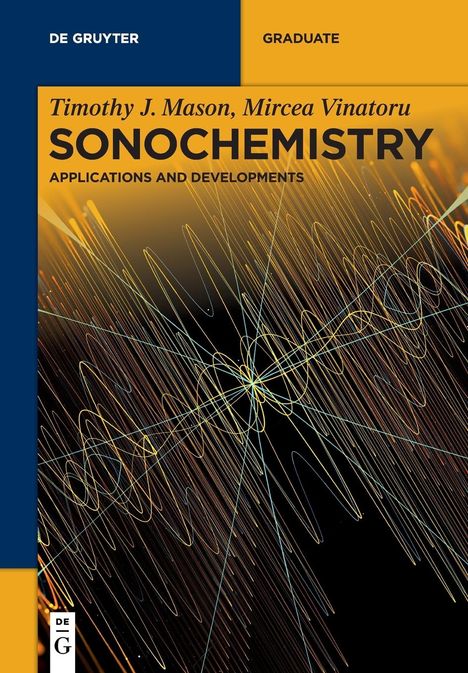 versandfertig innerhalb von 1-3 Tagen
(soweit verfügbar beim Lieferanten)
De Gruyter, 03/2023
Einband: Flexibler Einband
Sprache: Englisch
ISBN-13:

9783110999907

Bestellnummer: 11424476
Sonstiges: 22 b/w and 84 col. ill., 50 b/w tbl.
Gewicht: 556 g
Maße: 238 x 170 mm
Stärke: 19 mm
Erscheinungstermin: 6.3.2023
Serie: De Gruyter Textbook

Achtung: Artikel ist nicht in deutscher Sprache!
Weitere Ausgaben von Sonochemistry
Klappentext
In the 1980's sonochemistry was considered to be a rather restricted branch of chemistry involving the ways in which ultrasound could improve synthetic procedures, predominantly in heterogeneous systems and particularly for organometallic reactions. Within a few years the subject began to expand into other disciplines including food technology, environmental protection and the extraction of natural materials. Scientific interest grew and led to the formation of the European Society of Sonochemistry in 1990 and the launch of a new journal Ultrasonics Sonochemistry in 1994. The subject continues to develop as an exciting and multi-disciplinary science with the participation of not only chemists but also physicists, engineers and biologists. The resulting cross-fertilisation of ideas has led to the rapid growth of interdisciplinary research and provided an ideal way for young researchers to expand their knowledge and appreciation of the ways in which different sciences can interact. It expands scientific knowledge through an opening of the closed doors that sometimes restrict the more specialist sciences.

The journey of exploration in sonochemistry and its expansion into new fields of science and engineering is recounted in "Sonochemistry Evolution and Expansion" written by two pioneers in the field. It is unlike other texts about sonochemistry in that it follows the chronological developments in several very different applications of sonochemistry through the research experiences of the two authors Tim Mason and Mircea Vinatoru.

Designed for chemists and chemical engineers

Written by two experts and practitioners in the subject

Volume 1 covers the historical background and evolution of sonochemistry

Volume 2 explains the wider applications and expansion of the subject

VOLUME 2 Applications and Developments

Volume 2 contains six chapters which detail the developments of sonochemistry in fields which continue to attract considerable research and development interest from academia and industry. The topics range from the important developments in chemical synthesis through food technology and materials processing to therapeutic ultrasound. The authors have made contributions to all of these and so the content is written in a way which should be understandable to readers whose expertise may not necessarily be in the individual topic. Each of the applications and developments described help to illustrate not only the diverse nature of sonochemistry but also the unifying theme of the effects of acoustic cavitation on a wide range of procedures.
Mehr von Timothy J. Mason