Psychology of Substance Abuse
Psychology of Substance Abuse
Buch
Psychotherapy, Clinical Management and Social Intervention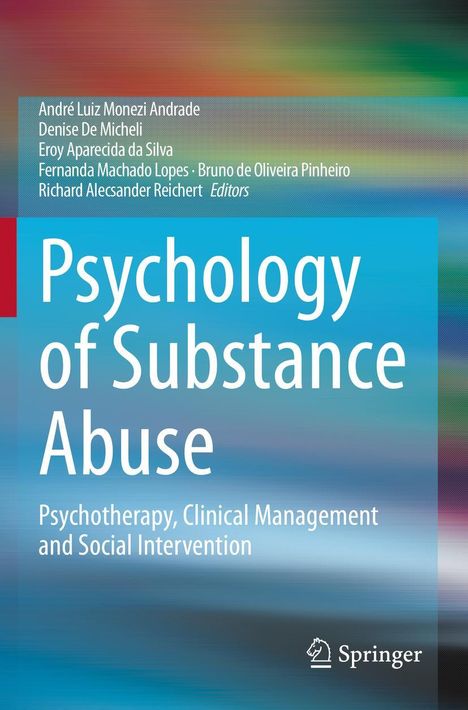 lieferbar innerhalb 2-3 Wochen
(soweit verfügbar beim Lieferanten)
Verlängerter Rückgabezeitraum bis 31. Januar 2023
Alle zur Rückgabe berechtigten Produkte, die zwischen dem 1. bis 31. Dezember 2022 gekauft wurden, können bis zum 31. Januar 2023 zurückgegeben werden.
Springer International Publishing, 04/2022
Einband: Kartoniert / Broschiert, Paperback
Sprache: Englisch
ISBN-13:

9783030621087

Bestellnummer: 10925475
Umfang: 428 Seiten
Nummer der Auflage: 22001
Auflage: 1st ed. 2021
Gewicht: 645 g
Maße: 235 x 155 mm
Stärke: 22 mm
Erscheinungstermin: 16.4.2022

Achtung: Artikel ist nicht in deutscher Sprache!
Weitere Ausgaben von Psychology of Substance Abuse
Klappentext
This book is a guide for psychologists working with substance users in different healthcare settings, from private clinical practice to larger health institutions and community services. It presents a comprehensive overview of the different aspects involved with substance use disorders from a psychological perspective, from prevention to recovery. The volume offers an integrative view about neurobiological, behavioral and psychosocial aspects related to becoming a substance user; shows how psychological assessment tools can be used to diagnose substance use disorders; describes how different kinds of psychotherapy can be applied in the treatment of substance use disorders; and presents a range of evidence-based clinical and social interventions designed for both prevention and treatment of substance use disorders.

Apart from covering the whole range of services related to the prevention, diagnosis and treatment of substance use disorders, the volume also shows how these issues can be approached from different theoretical perspectives within psychology, such as:

Behavioral and Cognitive Psychology Neuropsychology
Existential Psychology
Phenomenology
Psychoanalysis
Analytical Psychology Community and Social Psychology

Psychology of Substance Abuse: Psychotherapy, Clinical Management and Social Intervention will be a useful resource for psychologists and other health professionals working with substance users, as well as to undergraduate and graduate students looking for a comprehensive introduction to the psychology of substance abuse.