Proceedings of the 3rd RILEM Spring Convention and Conference (RSCC 2020)
Proceedings of the 3rd RILEM Spring Convention and Conference (RSCC 2020)
Buch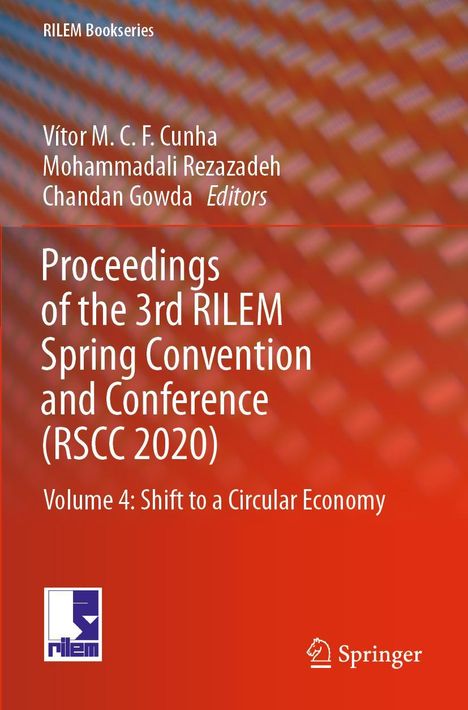 lieferbar innerhalb 2-3 Wochen
(soweit verfügbar beim Lieferanten)
Springer International Publishing AG, 07/2022
Einband: Kartoniert / Broschiert, Paperback
Sprache: Englisch
ISBN-13:

9783030765453

Bestellnummer: 11007502
Umfang: 344 Seiten
Nummer der Auflage: 22001
Auflage: 1st ed. 2021
Gewicht: 522 g
Maße: 235 x 155 mm
Stärke: 18 mm
Erscheinungstermin: 15.7.2022
Serie: RILEM Bookseries - Band 35

Achtung: Artikel ist nicht in deutscher Sprache!
Weitere Ausgaben von Proceedings of the 3rd RILEM Spring Convention and Conference
Klappentext
This book gathers peer-reviewed contributions presented at the 3rd RILEM Spring Convention and Conference, held at Guimarães and hosted by the University of Minho, Portugal, on March 9-14, 2020. The theme of the Conference was Ambitioning a Sustainable Future for Built Environment: comprehensive strategies for unprecedented challenges , which was aimed at discussing current challenges and impacts of the built environment on sustainability. The present volume is dedicated to the topic Shift to a circular economy , which is focussed on sustainability and covers the research and recent technologies on the use and development of sustainable materials and structural systems, as well as on recycling and reusing. It also covers the implementation of industrial processes leading to minimized waste, including digital fabrication and deconstruction, as well as integrative approaches that lead to the achievement of the concept of circular economy. Additionally, this topic covers research on novel or existing construction materials and systems based on local resources and regional practices. The following subtopics are included: industrialized construction systems minimizing waste; recycling and reuse of materials and components; 4Ls: local constructions with local materials through local approaches for local development; Digital Manufacturing; design for deconstruction; smart demolition techniques; timber structures; Life-Cycle Assessment of construction materials and technologies; recycling of pavements and materials in roads.