Peter Ackroyd: Dominion: The History of England from the Battle of Waterloo to Victoria's Diamond Jubilee
Dominion: The History of England from the Battle of Waterloo to Victoria's Diamond Jubilee
Buch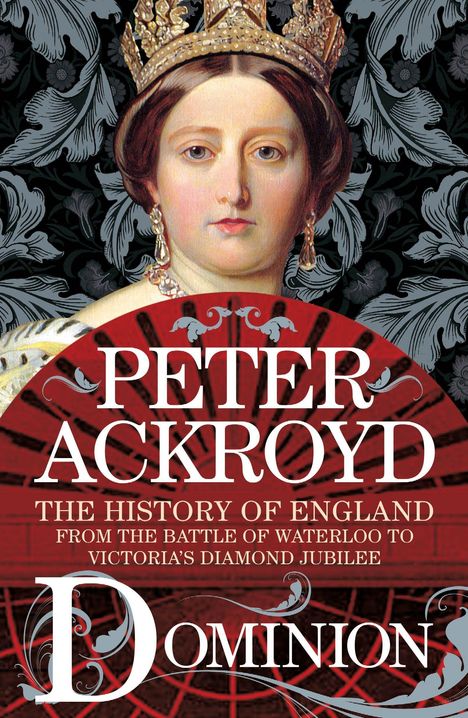 Lieferzeit beträgt mind. 4 Wochen
(soweit verfügbar beim Lieferanten)
Verlängerter Rückgabezeitraum bis 31. Januar 2023
Alle zur Rückgabe berechtigten Produkte, die zwischen dem 1. bis 31. Dezember 2022 gekauft wurden, können bis zum 31. Januar 2023 zurückgegeben werden.
GRIFFIN, 12/2021
Einband: Kartoniert / Broschiert
Sprache: Englisch
ISBN-13:

9781250812162

Bestellnummer: 10402694
Umfang: 400 Seiten
Gewicht: 340 g
Maße: 208 x 135 mm
Stärke: 30 mm
Erscheinungstermin: 14.12.2021
Serie: History of England

Achtung: Artikel ist nicht in deutscher Sprache!
Klappentext
"Ackroyd, as always, is well worth the read." -Kirkus, starred review

Dominion, the fifth volume of Peter Ackroyd's masterful History of England, begins in 1815 as national glory following the Battle of Waterloo gives way to a post-war depression and ends with the death of Queen Victoria in January 1901.

Spanning the end of the Regency, Ackroyd takes readers from the accession of the profligate George IV whose government was steered by Lord Liverpool, whose face was set against reform, to the 'Sailor King' William IV whose reign saw the modernization of the political system and the abolition of slavery.

But it was the accession of Queen Victoria, at only eighteen years old, that sparked an era of enormous innovation. Technological progress-from steam railways to the first telegram-swept the nation and the finest inventions were showcased at the first Great Exhibition in 1851. The emergence of the middle-classes changed the shape of society and scientific advances changed the old pieties of the Church of England, and spread secular ideas among the population. Though intense industrialization brought booming times for the factory owners, the working classes were still subjected to poor housing, long work hours, and dire poverty. Yet by the end of Victoria's reign, the British Empire dominated much of the globe, and Britannia really did seem to rule the waves.
Biografie
Peter Ackroyd wurde 1949 in London geboren. Er studierte Literaturwissenschaft in Yale und Cambridge und arbeitete viele Jahre für den »Spectator« und die »Times«. Ackroyd ist einer der namhaftesten britischen Gegenwartsautoren («Neue Zürcher Zeitung«). Er veröffentlichte zahlreiche Romane und Biographien und erhielt den Somerset Maugham Award, den Guardian Fiction Prize und den Whitbread Award.