Emilie Feldman: Divestitures: Creating Value Through Strategy, Structure, and Implementation
Divestitures: Creating Value Through Strategy, Structure, and Implementation
Buch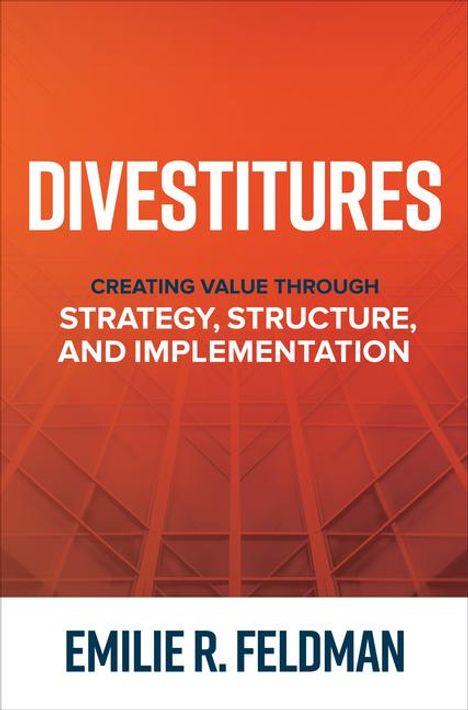 McGraw-Hill Education Ltd, 01/2023
Einband: Gebunden
Sprache: Englisch
ISBN-13:

9781264277568

Bestellnummer: 10969763
Sonstiges: 65 Illustrations, unspecified
Gewicht: 503 g
Maße: 238 x 154 mm
Stärke: 30 mm
Erscheinungstermin: 18.1.2023

Achtung: Artikel ist nicht in deutscher Sprache!
Klappentext
Today's best-known expert on the topic shows business leaders how to dramatically increase corporate value through smart, strategic divestitures
Divestitures are one of the most effective ways to increase shareholder value, and they are among the hottest transactional structures today. Based on Professor Emilie R. Feldman's award-winning research, Divestitures: Creating Value Through Strategy, Structure, and Implementation explains the ins and outs of using divestitures to benefit the corporation. Written for transactional advisors, board members, and executives tasked with making the right divestiture decisions and implementing them in ways that create value for their companies, Divestitures is organized into three sections:
Strategy: Remove problems, improve focus, reconfigure your portfolio, and address regulations
Structure: Sales, spinoffs, equity carveouts, Reverse Morris Trusts, joint ventures, and tracking stocks
Implementation: Separate and remove divested entities, reconfigure internal processes, and reshape external perceptions

You've focused on mergers and acquisitions, but how much do you know about divestitures? Professor Feldman provides everything you need to know about what strategic objectives divestitures can achieve, which businesses divestitures typically involve, what divestiture structures companies can choose from, and how to implement divestitures to maximize their financial benefits. Divestitures fills major gaps in the professional and academic markets, providing the only available rigorous, research-based treatment of this important strategic tool.