Drugs and Human Behavior
Buch
Biopsychosocial Aspects of Psychotropic Substances Use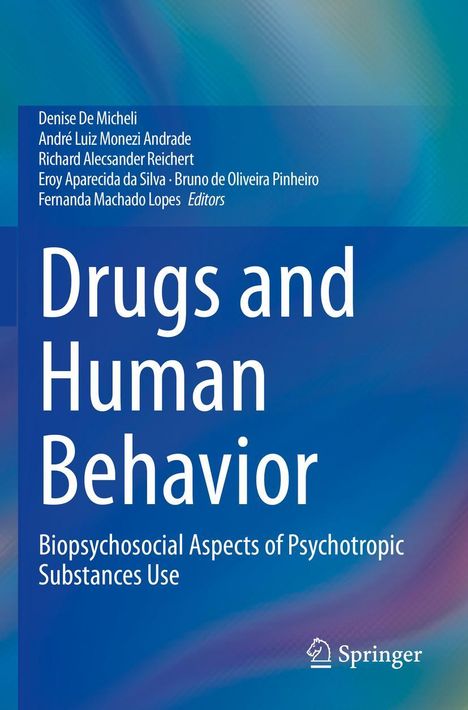 sofort lieferbar
Verlängerter Rückgabezeitraum bis 31. Januar 2023
Alle zur Rückgabe berechtigten Produkte, die zwischen dem 1. bis 31. Dezember 2022 gekauft wurden, können bis zum 31. Januar 2023 zurückgegeben werden.

Springer International Publishing, 05/2022
Einband: Kartoniert / Broschiert, Paperback
Sprache: Englisch
ISBN-13:

9783030628574

Bestellnummer: 10942915
Umfang: 588 Seiten
Nummer der Auflage: 22001
Auflage: 1st ed. 2021
Gewicht: 879 g
Maße: 235 x 155 mm
Stärke: 31 mm
Erscheinungstermin: 2.5.2022

Achtung: Artikel ist nicht in deutscher Sprache!
Weitere Ausgaben von Drugs and Human Behavior
Klappentext
This book presents the main concepts and tools for the adoption of a biopsychosocial approach to psychotropic substances use and abuse management, prevention and treatment. It aims to provide resources for the design and implementation of health strategies and public policies to deal with psychotropic substances use in a way that fully recognizes the complex articulations between its biological, psychological and social aspects, taking these three dimensions into account to develop both health and social care policies and strategies aimed at psychotropic substance users.

The book is organized in five parts. Part one presents a historical overview of psychotropic substances use throughout human history and introduces key concepts to understand the phenomenon from a biopsychosocial perspective. The next three parts approach psychotropic substances use from one of the interrelated dimensions of the biopsychosocial perspective: part two focuses on the neurobiological aspects; part three, on the psychological aspects; and part four, on the social aspects and its implications for public policy design. Finally, a fifth part is dedicated to special topics related to psychotropic substances use.

Drugs and Human Behavior: Biopsychosocial Aspects of Psychotropic Substances Use is a guide to public agents, health professionals and social workers interested in adopting the biopsychosocial perspective to develop and implement both health and social care strategies and policies based on an interdisciplinary approach and aimed at dealing with psychotropic substance users in a more humanized way.