Dk Eyewitness: DK Eyewitness Amsterdam
DK Eyewitness Amsterdam
Buch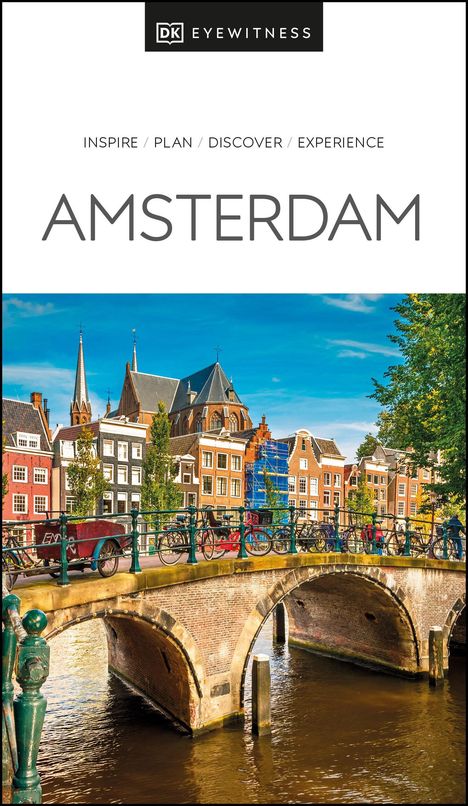 Dorling Kindersley Ltd., 05/2021
Einband: Kartoniert / Broschiert
Sprache: Englisch
ISBN-13:

9780241462768

Bestellnummer: 9889875
Umfang: 240 Seiten
Gewicht: 350 g
Maße: 217 x 126 mm
Stärke: 10 mm
Erscheinungstermin: 13.5.2021
Serie: Travel Guide

Achtung: Artikel ist nicht in deutscher Sprache!
Klappentext
DK Eyewitness travel guides: award-winning guidebooks

Find your corner of Amsterdam with this essential travel guide to this historic city, designed to help you create your own unique trip and to transport you there
before you've even packed your case - stroll along atmospheric canals, reflect
at the Anne Frank House, explore the Rijksmuseum, or relax in Vondelpark. The
DK Eyewitness Guide to Amsterdam covers the must-see sights and the hidden corners, so you won't miss a thing.

• Gorgeous, all-new color photography so you can imagine yourself there
• Reasons to love Amsterdam: world-class museums, canal cruising and funky street art - what will yours be?
• See Amsterdam from a different angle - 22 pages of fresh ideas for exploring the city
• A year-long calendar of events in Amsterdam gives a selection of local events and festivals for all seasons
• Sturdy, laminated pull-out city map gives transport information
• Expert advice covers the practical stuff: get ready, get around and stay safe
• Detailed, color maps help you navigate the city with ease
• Expert tips to make memories that last - where to snap and share the perfect photo, take in stunning views and escape the crowds
• The most authentic places to stay, eat, drink and shop
• Easy-to-follow walks and itineraries take you on a tour of each area, with plenty of eat and drink stops en route.
• Hand-drawn illustrations show the inside of the must-see attractions, including Oude Kerk, Museum Ons' Lieve Heer op Solder, and the Museum Willet-Holthuysen
• Covers Nieuwe Zijde, Oude Zijde, the Central Canal Ring and Eastern Canal Ring, Museum Quarter, Jordaan and the Western Islands, Plantage, Noord, plus sights beyond the city.

DK Eyewitness Travel Guide Amsterdam is a detailed, easy-to-use guide designed to help you create your own unique trip.

DK Eyewitness: winner of the Top Guidebook Series in the Wanderlust Reader Travel Awards 2017.

Planning a shorter break? Try our DK Eyewitness Top 10 Amsterdam guide.

About DK Eyewitness Travel: For 25 years, DK's beautifully practical Eyewitness guides have been combining inspiring ideas and expert advice with easy-to-read maps and vivid photography to inform and enrich your holiday. This year they have been given a stunning new look that you will love even more. DK is the world's leading illustrated reference publisher, producing beautifully designed books for adults and children in over 120 countries.
Mehr von Dk Eyewitness