Climate Change and Marine and Freshwater Toxins
Climate Change and Marine and Freshwater Toxins
Buch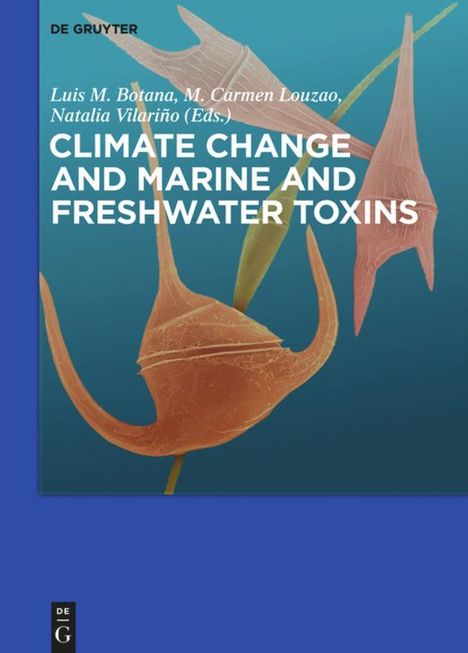 lieferbar innerhalb 2-3 Wochen
(soweit verfügbar beim Lieferanten)
De Gruyter, 08/2015
Einband: Gebunden, HC runder Rücken kaschiert
Sprache: Englisch
ISBN-13:

9783110333039

Bestellnummer: 8194472
Umfang: 508 Seiten
Sonstiges: 150 schw.-w. u. 50 farb. Abb., 200 schw.-w. Tab., 50 schw.-w. Fotos, 100 schw.-w. Zeichn.
Copyright-Jahr: 2015
Gewicht: 1032 g
Maße: 246 x 175 mm
Stärke: 33 mm
Erscheinungstermin: 28.8.2015

Achtung: Artikel ist nicht in deutscher Sprache!
Klappentext
In Climate Change and Marine and Freshwater Toxins the editors have assembled contributions from a team of international experts to expand the framework for an appropriate assessment of climate change impacts on aquatic toxins. While the production of toxins by microalgae has been known for decades, establishing a factual link supported by scientific evidence is a very complex endeavor. The increasing frequency and distribution of toxic blooms for example continue to raise serious concerns regarding seafood and drinking water safety. This book compiles current evidence on the influence of climate change on the spreading of toxin producing species in aquatic systems. The chemistry and biology of toxin production is revised and an outlook on control and prevention of the toxin's impact on human and animal health is given.
• Compelling quantitative evidence of complex interactions from primary toxin producers and along the food chain.
• Latest advances on prediction and prevention of water toxin threats to human and animal health.
• A must read for insights into aquatic toxins and their modification by climatic conditions.
About the Editors
Luis M. Botana
Is a full Professor of Pharmacology at the University of Santiago, from 2004-2012 director of the Department of Pharmacology and former Fogarty Fellow at the School of Medicine of the Johns Hopkins University. He has been director of the European Reference Laboratory for Marine Toxins from 2004 to 2009. He is author of 25 international patents, over 300 scientific papers and editor of 10 international books.
M. Carmen Louzao
Is a Professor of Pharmacology at the University of Santiago de Compostela since 1997. She was a postdoctoral fellow in the National Institute of Environmental Health Sciences (NIEHS) from 1994 to 1995. She is author of over 70 scientific publications in the field of Toxicology, Biochemistry, and Immunology and 20 reviews and book chapters.
Natalia Vilariño
Currently teaches Pharmacology to Veterinary Medicine students and participates actively in the research activities of the Department of Pharmacology, University of Santiago de Compostela, since 2005. She was a postdoctoral fellow at the Johns Hopkins Asthma and Allergy Center for 4 years. She is author of over 50 scientific papers in the fields of Toxicology, Analytical Chemistry and Immunology.