David Cade: Athens - The Truth
Athens - The Truth
Buch
Searching for Manos, Just Before the Bubble Burst.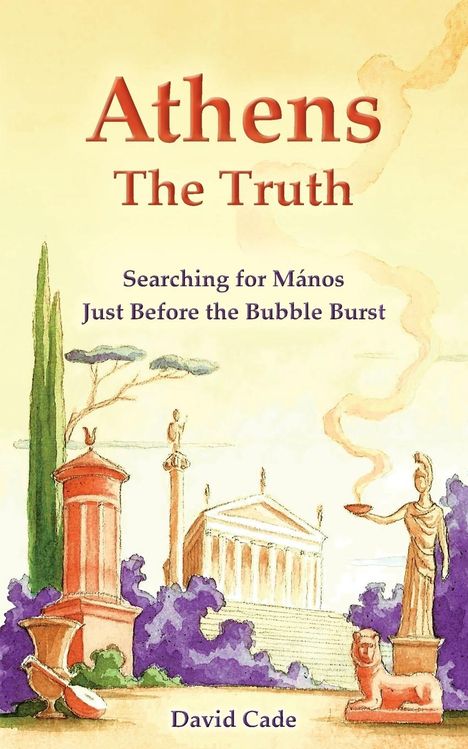 lieferbar innerhalb 2-3 Wochen
(soweit verfügbar beim Lieferanten)
Tales of Orpheus, 09/2013
Einband: Kartoniert / Broschiert, Paperback
Sprache: Englisch
ISBN-13:

9780955209031

Bestellnummer: 2806168
Umfang: 406 Seiten
Gewicht: 479 g
Maße: 203 x 126 mm
Stärke: 32 mm
Erscheinungstermin: 1.9.2013

Achtung: Artikel ist nicht in deutscher Sprache!
Klappentext
Short Description:

Charmed for decades by the music of Oscar-winning Greek composer Mános Hadjidákis, David Cade explores Athens as news breaks at the end of 2009 that Greece is in serious financial difficulty. After years in the neighbouring Middle East, the author talks to Athenians, examines many of the city's extraordinary attractions, and surveys key aspects of Greece's modern history, its daily life, and its music.

Long Description:

'Athens - The Truth' gets to grips with the modern capital of Greece. Written in an easy and generally non-academic style it offers a widely researched feast of details to satisfy both the armchair traveller and the actual traveller alike, whether the latter be tourists, visitors, students, teachers, or business people. From a rational and secular point of view, the book provides both a thrilling account of what makes Athens tick and a vivid explanation of why Greece is as it is today. Searching for Mános and his music in and around many of the significant places of Athens, the author observes many of the qualities that infuse not only the music of Greece but also many of the behaviours, aspects, and forms of expression that are typical of Athens. The final chapters allow the reader both an appreciation of the Greek psyche and a clear account of the precarious point at which Greece now stands. A thirteen-page index assists the location of specific details.

Contents:

Ch. 1: Introduction;

Ch. 2: Genocide & Rebétika;

Ch. 3: Edge of the East;

Ch. 4: Cháos & Puppets;

Ch. 5: Streets of Dreams;

Ch. 6: Artefacts & Legacies;

Ch. 7: Over the Moon;

Ch. 8: Scents & Sparkle;

Ch. 9: Unexpected Creatures;

Ch. 10: Rules & Rebellion;

Ch. 11: Chasms, Canyons, & Strata;

Ch. 12: Identity;

Ch. 13: Eternal Diónysos;

Ch. 14: Extreme Appearances;

Ch. 15: Refuge & Delirium;

Ch. 16: Undercurrents & Shadows;

Ch. 17: To Démetra & Cátharsis;

Acknowledgements.

Index.

Biography:

David Cade is a writer and actor living in the Shropshire Hills, England. He has worked in classical record production, schools, universities, and theatre. He studied Drama, Theatre Arts, and Music at the University of Birmingham and has an MA in Linguistics from the University of London. He has lived in New Zealand, Fiji, Australia, and the Middle East. The music of Greece is his passion.