Scooter: God Save The Rave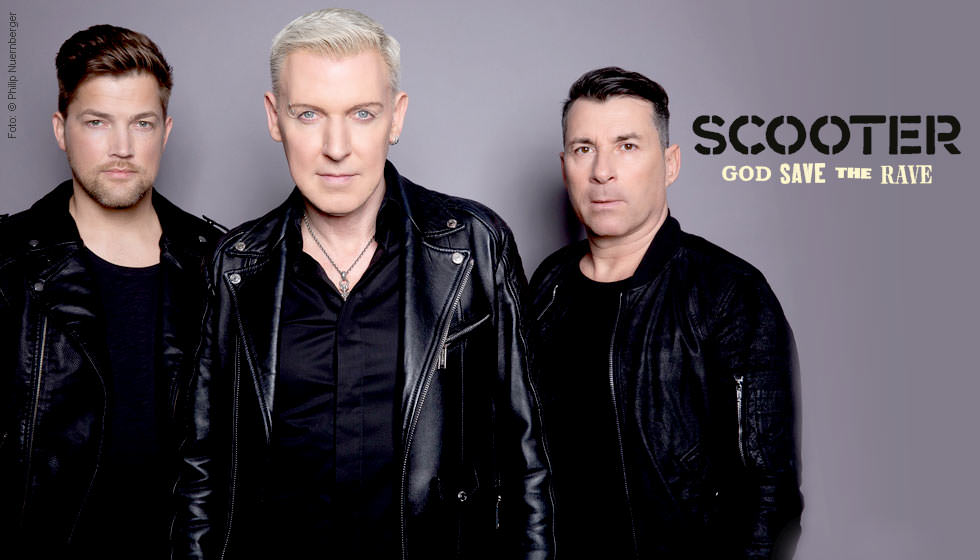 Die Erlöser
Die Techno- und EDM-Ikonen Scooter kehren 2021 zurück, um die Musikwelt zu erlösen, und zwar bereits zum 20. Mal.

Dafür sprechen jedenfalls der Titel und das Coverartwork ihres neuen Albums. Hier ist »God Save The Rave«.
God Save The Rave
2 CDs
CD (Compact Disc)
Herkömmliche CD, die mit allen CD-Playern und Computerlaufwerken, aber auch mit den meisten SACD- oder Multiplayern abspielbar ist.
Label: Sheffield Tunes, 2021
Bestellnummer:

10376134

Erscheinungstermin: 16.4.2021
*** Digipack
Gesamtverkaufsrang: 11242
Verkaufsrang in CDs: 4555
Pioniere mit frischem Wind
Im vergangenen Jahr feierten Scooter den 25. Geburtstag ihres Debütalbums.

2021 schauen die deutschen Happy-Hardcore-Pioniere aber wieder nach vorne und präsentieren ihr neues, mittlerweile 20. Studioalbum »God Save The Rave«.

Mit den Songs »FCK 2020« und dem Titeltrack »God Save The Rave«, zusammen mit dem österreichischen Danceprojekt Harris & Ford, schickten HP Baxxter und Co. Bereits zwei mitreißende Singles ins Rennen.

Und die zeigen: Trotz Scooters unverwechselbarer Signatur bringt das Kult-Trio immer wieder frischen Wind in sein Genre. Wer sich selbst überzeugen will, kann »God Save The Rave« jetzt einfach online bestellen.


Disk 1 von 2
1 Futurum Est Nostrum
2 God Save The Rave feat. Harris & Ford
3 Never Stop The Show
4 We Love Hardcore feat. Vegas & Like Mike
5 Paul Is Dead feat. Timmy Trumpet
6 Bassdrum feat. Finch Asozial
7 Which Light Switch Is Which?
8 FCK 2020
9 Groundhog Day
10 Hang The DJ
11 Rave Teacher (Somebody Like Me) (Album Edit) feat. Xillions
12 Ahactacnr
13 Devil's Symphony
14 These Days
15 Wand'rin' Star
Disk 2 von 2
1 Intro
2 One (Always Hardcore)
3 The Logical Song
4 Bora Bora Bora
5 My Gabber feat. Jebroer
6 Ford God Save The Rave feat. Harris & Ford
7 Fire
8 How Much Is The Fish?
9 The Age Of Love (Live Version)
10 Fuck The Millenium / Call Me Mañana
11 J'adore Hardcore / Jumping All Over The World
12 Maria (I Like It Loud)
13 Which Light Switch Is Which?
14 Endless Summer / Hyper Hyper / Move Your Ass / Move Your Ass (Noisecontrollers Remix)