Judas Priest: Sad Wings Of Destiny (45 RPM)
Sad Wings Of Destiny (45 RPM)
2 LPs
LP (Long Play)
Die gute alte Vinyl - Langspielplatte.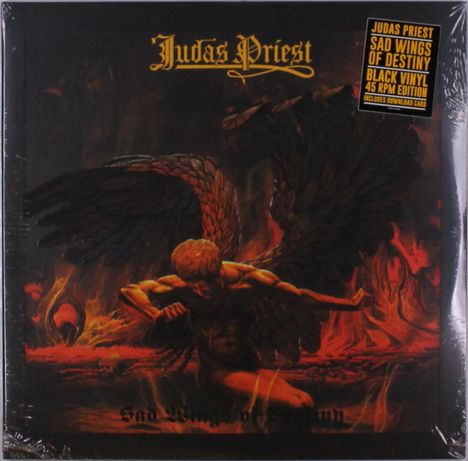 Lieferzeit beträgt mind. 4 Wochen
(soweit verfügbar beim Lieferanten)
Vinyl liefern wir innerhalb Deutschlands immer portofrei.
Label: eOne, 1975
Bestellnummer:

10702948

Erscheinungstermin: 10.9.2021
Enthält Downloadcode
*** Gatefold Cover
Product-Information:

Here is the much sought after second album by the pioneers of British heavy metal. Hear scream master supreme Rob Halford roar through nine exciting performances, including 'Victim Of Changes' and 'The Ripper'. Glenn Tipton and K. K. Downing whip up their guitars in a frenzy of riffs that won the band a fanatical following around the world.
Die Hörproben gehören zum Artikel Judas Priest: Sad Wings Of Destiny (CD). Das Tracklisting kann bei diesem Artikel ggf. abweichen.
LP
1 Victim Of Changes
2 The Ripper
3 Dreamer Deceiver
4 Deceiver
LP
1 Prelude
2 Tyrant
3 Genocide
4 Epitaph
5 Island Of Domination